Introducing GTO Wizard AI Heads Up Preflop Solver
Today, we're announcing a major upgrade – introducing Heads Up Preflop Solver! And read until the end for exciting news about job opportunities with us.
Now you can solve optimal preflop strategies for heads up games within seconds using GTO Wizard AI – with customized betting trees, stack depths, and antes. This includes all the features of GTO Wizard AI, such as our dynamic sizing, nodelocking, and custom parameters.
Knowing how to crush heads up play will give you a massive edge over your competition, regardless of what format you play, be it cash games, tournaments, or spins.
The Heads Up Preflop AI tool is available to anyone with an Elite subscription, regardless of format.
Use GTO Wizard AI to quickly find the best preflop strategies for heads-up poker! Customize bets, stack sizes, and antes. You can use Dynamic Sizing to automatically simplify to optimal sizing at each decision point. Then, take advantage of Nodelocking to learn how to exploit your opponent's preflop mistakes!
Mastering heads-up play boosts your edge in any game type—cash, tournaments, or spins. Available with an Elite subscription.
Solve HU preflop stack depths up to 250bb
Choose between regular ante, total ante, or big blind ante
Solve with or without limps
Customize the preflop betting tree, then simplify it with dynamic sizing!
New preflop filters & preflop equity
Nodelock and exploit
To get started with the heads up preflop solver, create a new solution using GTO Wizard AI, then select Preflop. This will open a menu that allows you to enter all the information needed to build a heads up tree.
After you've selected your sizes, you can use the Tree editor to customize it further:
Once you're ready, create the solution and start browsing the strategy!
As with any GTO Wizard AI solution, you can use Node Editing to experiment with bet sizes after the solution has been built:
You can nodelock the strategy at any point to discover preflop exploits! Then, use our Compare Nodes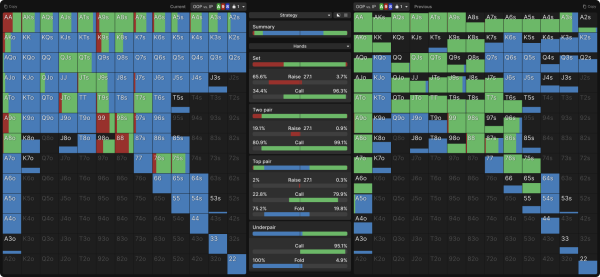 feature to see how the strategy has changed.
We've also developed new preflop equity bucket categories designed to help you filter preflop hands:
This highly specialized tool is specifically trained to dominate No Limit Hold'em Heads Up Poker.
The HU Preflop solver is not designed to mimic strategies for ring games. For example, nodelocking SB to open a tight UTG range will result in suboptimal BB defenses. This is because it was explicitly trained on heads up data. Additionally, the bunching effect would not be represented.
Down the road we plan to create a more generalized preflop solver that can handle multiway calculations quickly and efficiently. Check out our roadmap here.
GTO Wizard × Team Bas Poker
We're proud to announce a new partnership with Team BAS Poker, your ultimate guide to going pro, with Spin & Go! Stay tuned for high-level Spin & Go content, including study plans, coaching, articles, and videos!
Their expert coaches, Beldarion and Sido, are joining our coaching lineup every month. We've opened up a new coaching timeslot on alternate Mondays so you can enjoy all the benefits of Spin & Go coaching from top pros every month! The remaining coaching schedule remains intact, so you don't need to worry about losing coaching time in other formats. There will now be a total of 6 coaching sessions per month!
Don't miss the first free session on November 13th, where Beldarion will present the ultimate 3-Step Model for maximizing your GTO Wizard subscription as a Spin & Go pro!
Beldarion, co-founder and head coach of Team Bas Poker, has nearly two decades of professional poker experience and 1500+ hours of Spin & Go coaching worldwide. Sido_Obc, co-founder and head coach of Team Bas Poker, is a seasoned poker pro with over a decade of experience, having already played close to 200,000 spins.
These services are included for all GTO Wizard members. Some coaching sessions will be restricted to premium members only, however the first few will be available to everyone for free!
Membership-based Spin & Go coaching
Spin & Go video packs, Charts, HUDS and MDA
Active Spin & Go community discord server
Spin & Go – New Solutions
The update includes new Blind vs Blind Spin+Ante solutions, as well as regular Spin formats with your selection of Research, General, or Simple solutions. Use the Research solutions to study optimal preflop sizing, and use the General or Simple solutions to fine-tune your postflop strategy.
Spin players can now study up to 33bb deep (previously 25bb max), while Spin+ante has been improved to cover up to 25bb stack depths (previously 16bb max).
Spin & Go solutions are solved to an accuracy of 0.1%-0.017% of the pot. Additionally, the new depths follow the same blind-vs-blind opening sizes structure, meaning that you can choose SB open size of 2x, 2.25x, 2.5x, 2.75x, 3x, 2x, or 2.5x raise only, or GTO (which changes SB open size depending on stack depth).
Spin & Go; Up to 33bb Stacks, 90 NEW Solutions (ALL SPOTS)
Spin & Go + Ante; Up to 25bb Stacks, 360 NEW Solutions (ALL SPOTS)
HH Analyzer now supports more formats
You can now upload hands from ClubGG and Poker King Asia in the Hand History Analyzer. Also, iPoker received support for the Swedish koruna currency.
With the rise of GTO Wizard's adoption and its establishment as a consumer staple, we are looking for remarkable individuals to join us in our quest to build the ultimate poker training ecosystem.
Recognized as the #1 educational poker training tool and partner of some of the biggest names and brands in the industry, we are providing a unique opportunity to beneficially impact how thousands of players study poker all around the world. We are seeking highly talented and self-manageable individuals ready to take on the challenges that comes with building a state-of-the-art product. Scattered across globe, our team believes in empowering top-tier professionals to constantly grow and thrive through a culture of autonomy and responsibility. If you are ready to move up in stakes and be part of a company that values passion, excellence, and growth, we encourage you to apply to the following positions.
GTO Wizard thrives on providing a unique user experience and setting new industry standards. With us, you will have the occasion to shape the future of poker and grow your career in tandem with GTO Wizard's extraordinary growth. If you are passionate, dedicated, and driven to excel, we want to hear from you. Join us in redefining how poker is studied.