New solutions, filter & Trainer Improvements
Wizards, today we're releasing many new Cash and MTT solutions, including a brand new 6max Straddle + Ante format! We've also introduced several improvements including new hand category filters, upgrades to our trainer, and more!
Cash game 6max Straddle + Ante; 50BB, 75BB, 100BB (ALL SPOTS)
Cash HU – Simple; 20,40,60,80,150BB (ALL SPOTS – PREMIUM)
Cash NL50 – General; 20,40,50,75BB (ALL SPOTS – PREMIUM)
Cash NL500 – General; 20,40,50,75BB (ALL SPOTS – PREMIUM)
Cash NL50 – General; 100BB BTN vs SB, SRP (NEW SPOT)
Cash NL500 – General; 100BB BTN vs SB, SRP (NEW SPOT)
8max MTT – No Limps; 10,12,14,17,20,25BB (ALL SPOTS)
8max MTT – No Limps + With Limps; 2,3,4,5,6,7,8,9BB (PREFLOP ONLY)
New Features & Improvements
New hand category filters
Save and share training drills
Great Trainer improvements
Mobile UI improvements
Support of Chico and CoinPoker hand histories
GTO Wizard now speaks Croatian
Bug fixes
Let's take a more in-depth look at the new solutions and improvements.
New solutions
Cash game 6max Straddle + Ante introduces a new format to our Cash game lineup! This format is becoming popular among high-stakes players on GG Poker and is also played in live games. They're solved with a forced straddle (2BB), ante (0.1BB per player), and low rake (5% to 0.1BB cap). We've solved with high accuracy, a nash distance of 0.2%-0.3% dEV. These solutions are available to users with a Starter or Premium Cash Game subscription or 8max Straddle+Ante subscription.
Cash HU – Simple solutions add more stack depths to study for our premium heads-up cash game players! Similar to our previous simple solutions, these feature no flop donks, remove 4bet all-ins, and feature a simplified postflop solution for easier implementation.
Cash NL50/NL500 – General solutions now offer postflop spots for 20,40,50,75BB effective! 150BB and 200B postflop General solutions are coming in the next update. This will also expand the range of hands that can be analyzed using our General solutions. In the meantime, you can still use Simple solutions to analyze deep stack postflop spots. We have also added a highly requested spot for General 100BB solutions – BTN vs. SB, SRP.
8max MTT – No Limps We've expanded our collection of MTT solutions by adding postflop spots to 10,12,14,17,20,25BB effective!
8max MTT – No Limps + With Limps We've also added preflop solutions for 2,3,4,5,6,7,8,9BB so you can work on your short game.
New hand category filters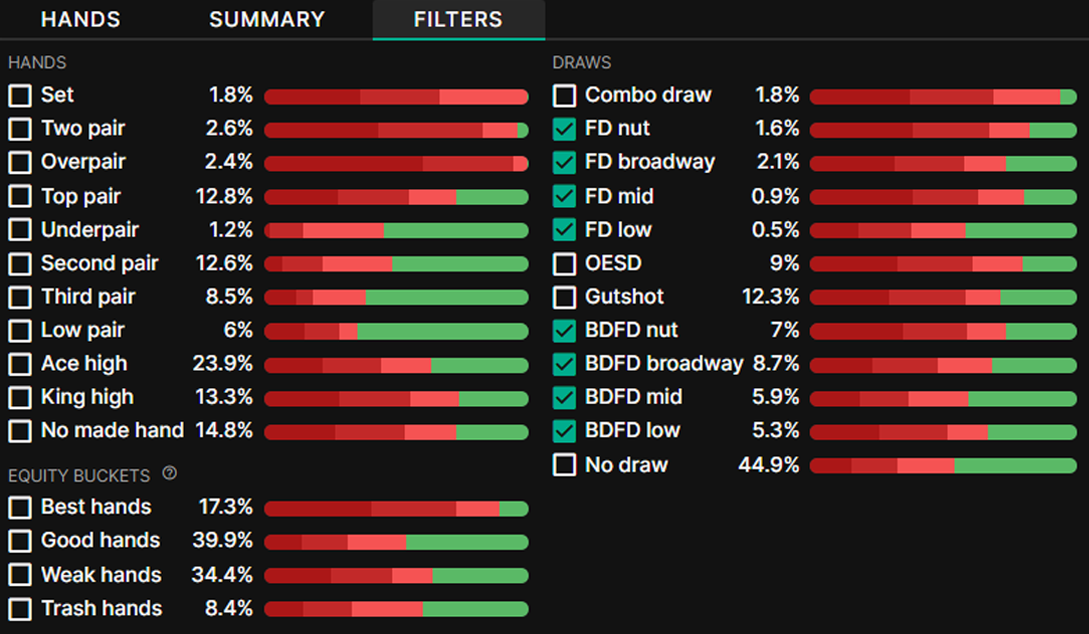 New hand category filters were among the most requested features by our users. So we've added new backdoor flushdraw filters and flushdraw filters and separated them by nut/broadway/mid/low. These add more resolution to the Draws category so you can study in more refined detail!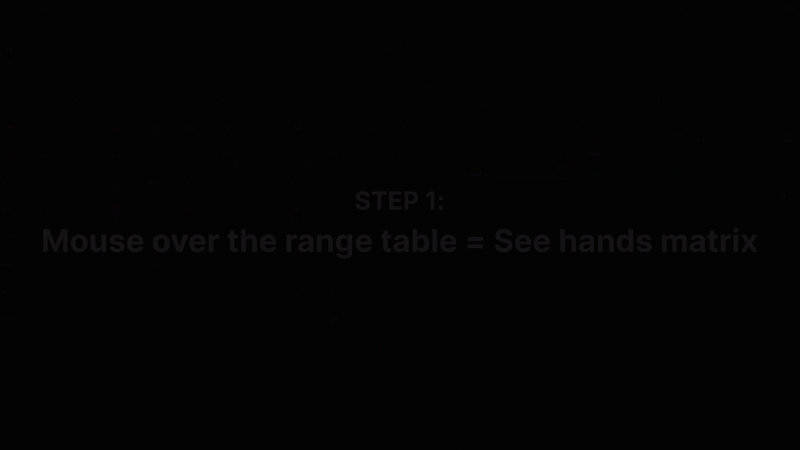 Additionally, we've changed the interface of the Filters Tab. The hand matrix will toggle between filters and hands if you select the Filters Tab in the solution browser. Hover your mouse inside the strategy matrix to see info about specific hands, then move your mouse away from the strategy matrix to see the filters tab.
Save and share training drills

Now you can Save and share training drills! Select +New to create and save a custom drill. Use the new Import and Export feature to share drills with friends or the community on our Discord. To import a drill, select Import, then paste the code. Hover over an existing drill to export, change, rename or delete it. You can even mark your favorite drills with a star ★.
Trainer improvements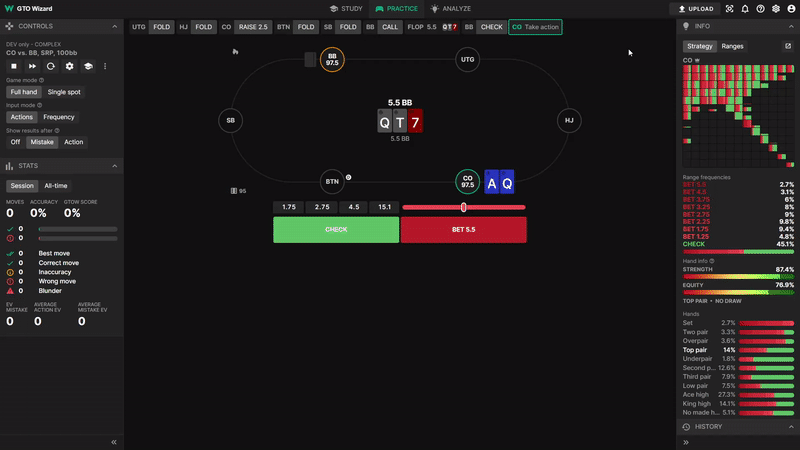 We've implemented major updates to the info panel in our trainer with this patch! Now you can choose between either a range or strategy comparison. Select "Ranges" to see both players' ranges and compare hand classes while you train against the solution (new). Select "Strategy" to see your range's strategy (new), see information about range frequencies, hand info, and hand class strategies/densities (new). Everything in the info panel updates dynamically as you play through the hand, and you can hide any information you like.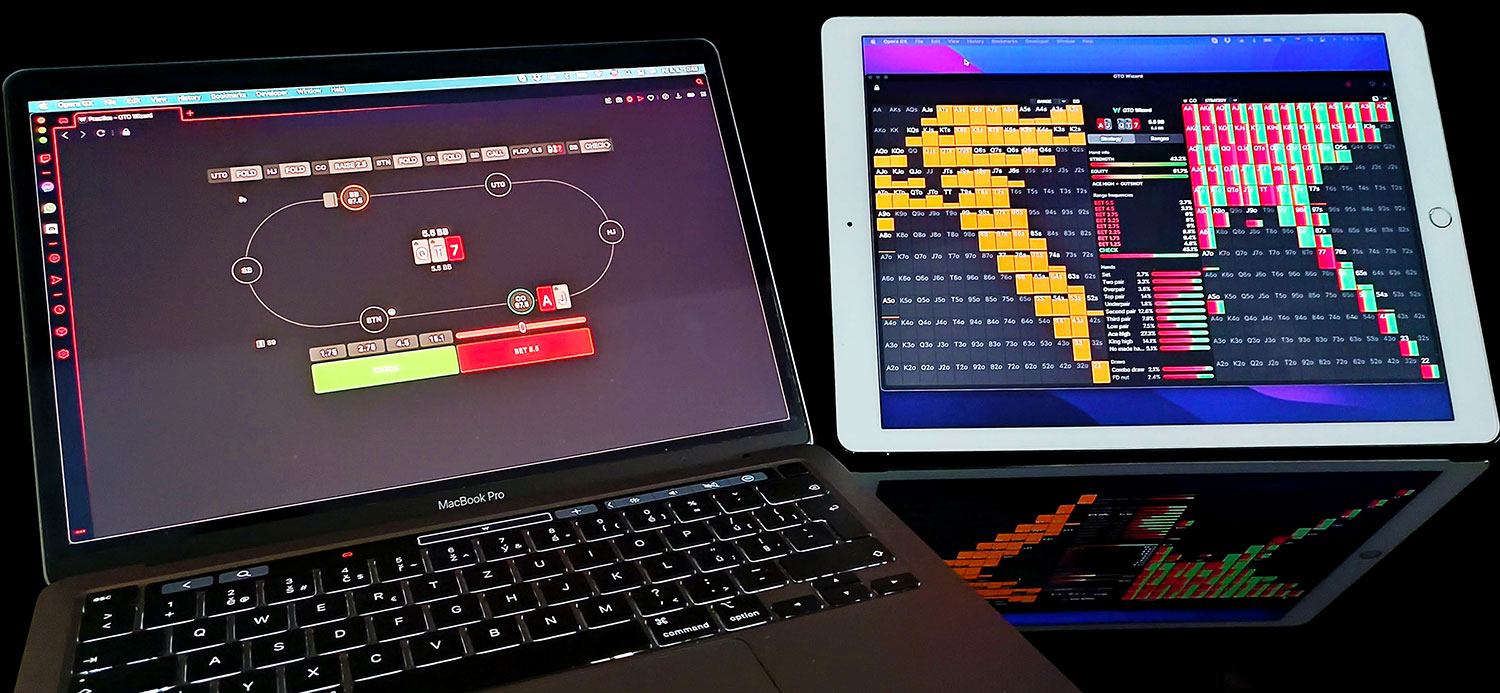 You can also pop out the info panel and move it to another screen! For the ultimate training experience, we recommend moving the info panel to one screen and playing in focus mode on the other.

Spin & Go players will be happy to hear that the trainer now supports customizing mixed stacks! This setting determines if all players will have the same stack depth or not. Select one main stack depth and customize the exact mixtures you'd like to practice. Or select multiple main stack depths with the option to toggle mixed stacks on or off.
Having a bad training session? Not to worry, now you can reset your session stats. Hover over the Stats tab and select this icon in the top-right corner. Don't worry; your All-time stats will always be preserved. (To see the Reset icon, you will need to mouse over the STATS sidebar area)
Mobile/tablet improvements to Ranges tab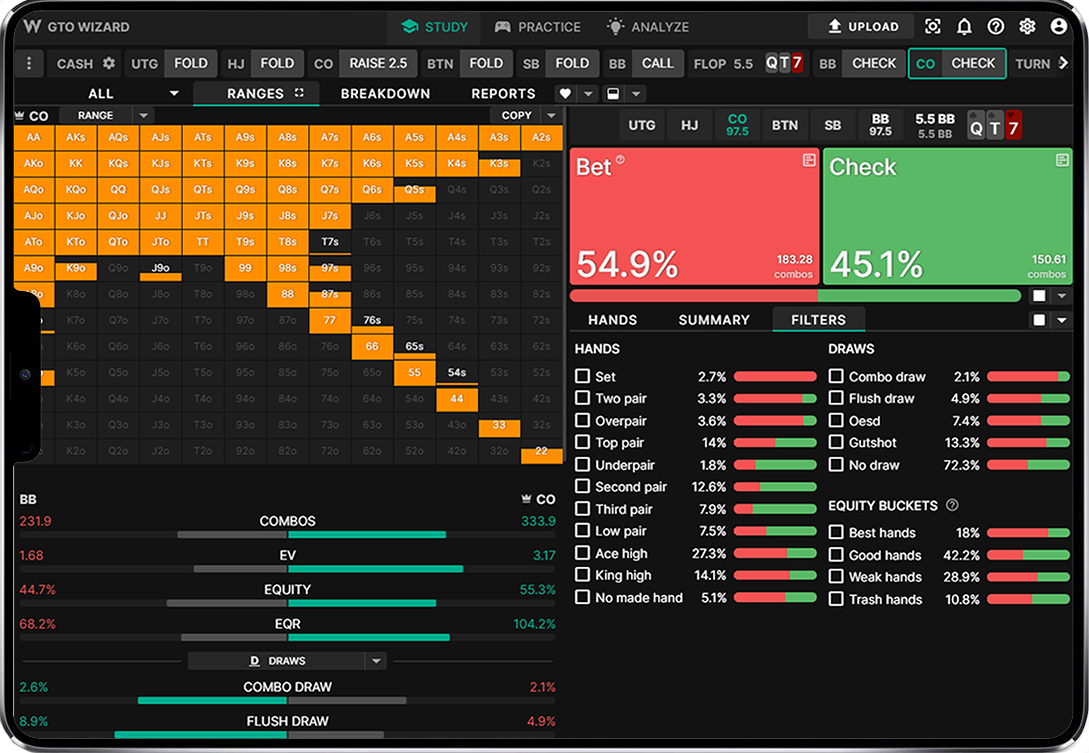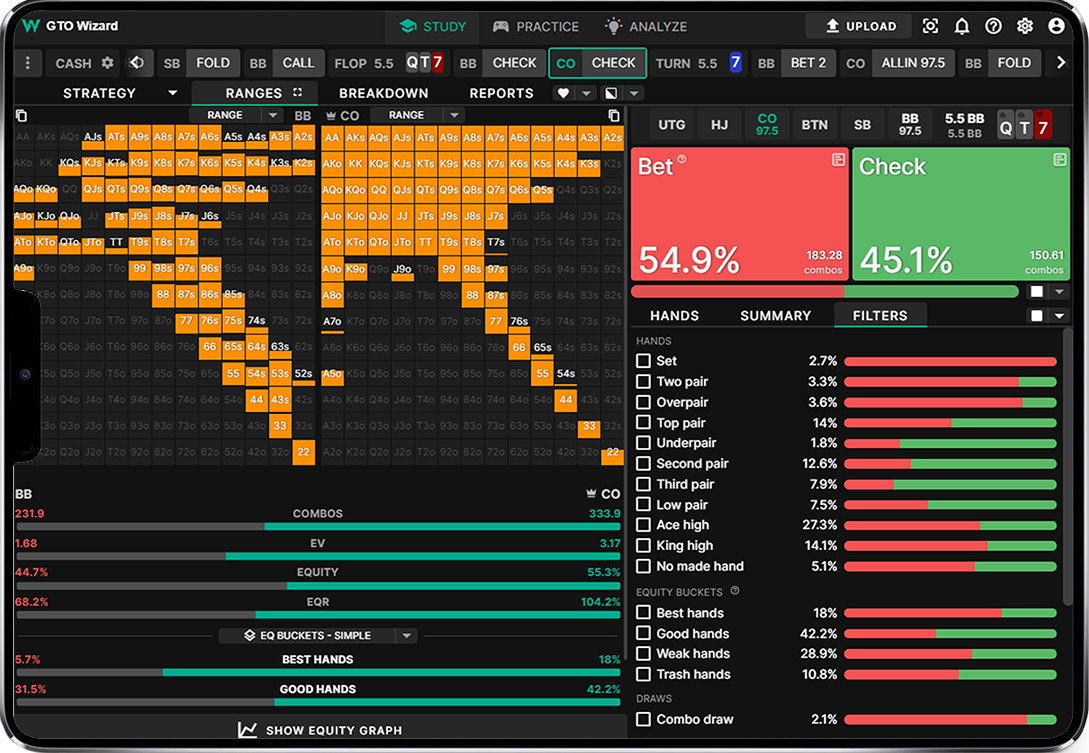 With this update, we've improved the mobile/tablet experience of the Ranges Tab. Previously, the ranges were shown vertically on smaller screens, so you had to scroll down to see the opponent's range. This made it difficult to compare the ranges. Now the ranges will always be shown side-by-side. Try landscape mode for a better viewing experience! (This view is applied everywhere in the app, where you can compare players' ranges, including the Trainer UI).
New supported websites in History Analyzer
The Hand History Analyzer now supports Chico and Coinpoker hand histories! We've also fixed some bugs. For example, the ability to create a picture of your analyzed hand (camera icon in the detail of the analyzed hand) is now working well again!
New language support
Lastly, we've added a new language. GTO Wizard now speaks Croatian!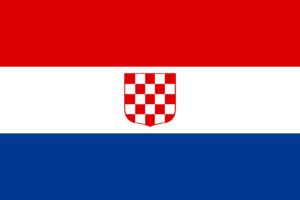 Fixed all reported bugs
We've fixed all reported bugs. If you find a new bug, please reach out to our Discord server and let us know so that we can improve it!
Thank you for reading our patch notes. GL on the tables!