PKO Solutions &
New Dashboard
Greetings Wizards, we have a major update for you today! You will now have access to a customizable dashboard and over 50 interface enhancements to provide a top-notch poker training experience. In addition to these UI/UX improvements, we are excited to announce brand new Progressive Knockout MTT (PKO) solutions as well. Get ready to take your skills to the next level with these updates!
MTT PKO 100% Field Left; 8max (PREFLOP – PREMIUM)
MTT PKO 90% Field Left; 8max (PREFLOP – PREMIUM)
MTT PKO 70% Field Left; 8max (PREFLOP – PREMIUM)
MTT PKO 50% Field Left; 8max (PREFLOP – PREMIUM)
MTT PKO 37.5% Field Left; 8max (PREFLOP – PREMIUM)
MTT PKO 25% Field Left; 8max (PREFLOP – PREMIUM)
MTT PKO Near Bubble; 8max (PREFLOP – PREMIUM)
MTT ICM 100% Field Left; 8max (PREFLOP – PREMIUM)
MTT ICM 75% Field Left; 8max (PREFLOP – PREMIUM)
MTT ICM Final 2-3 Tables; 5-8max (PREFLOP – PREMIUM)
MTT ICM Near Bubble; 8max (PREFLOP – PREMIUM)
MTT ICM Final Table; 9max, Symmetric (PREFLOP – PREMIUM)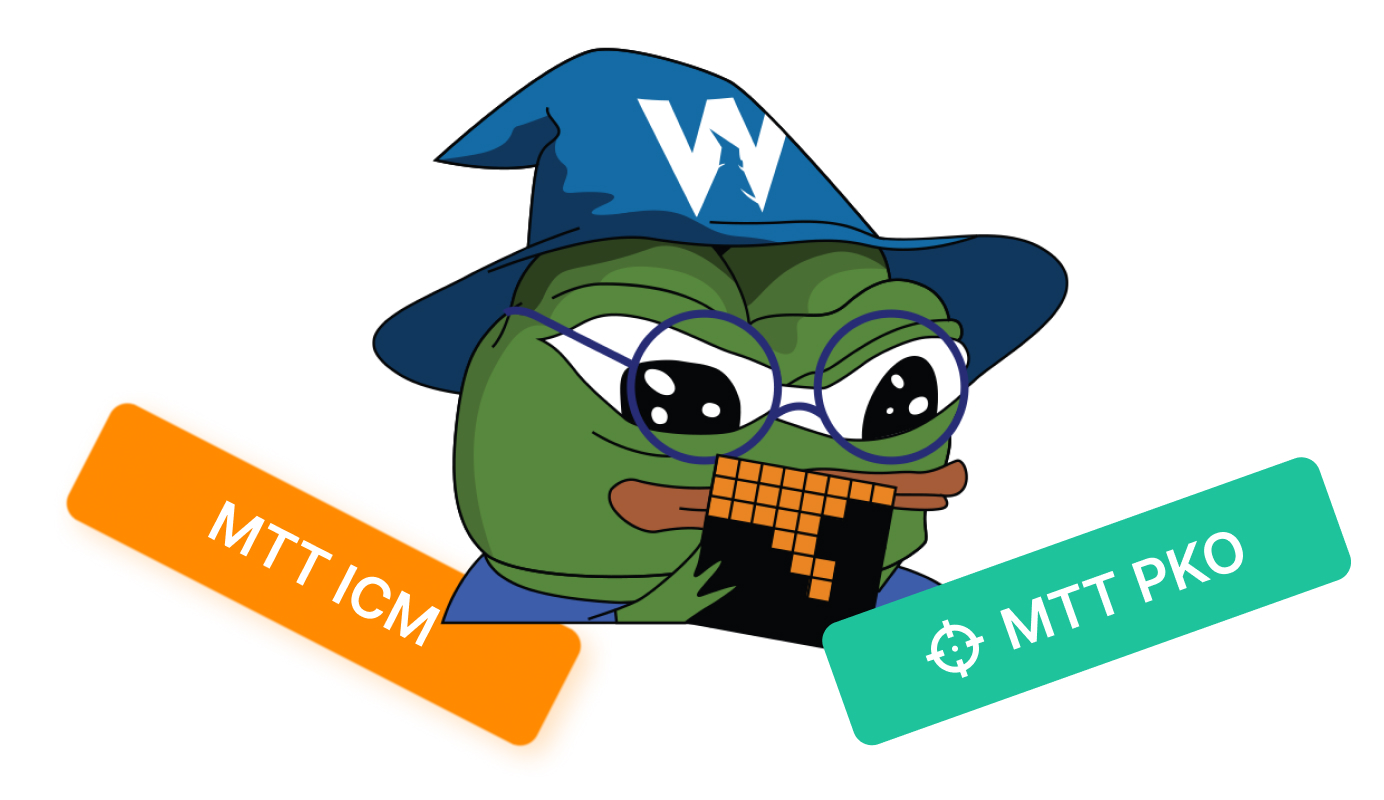 We intend to update our MTT subscription model. Soon PKO and ICM will become separate subscriptions. However, premium MTT members can access both of them in the meantime.
Our highly anticipated PKO solutions mark a huge step for us! Never before has it been so easy and convenient to study progressive knockout tournament strategy. Player bounties are shown in Wizard, and yes, bounties have a massive effect on optimal strategies!
We've modeled the bounties to scale with tournament progress and stack depth. The payout structure is shown in the solution selector and modeled after the most common PKO tournaments where 15% of the field is paid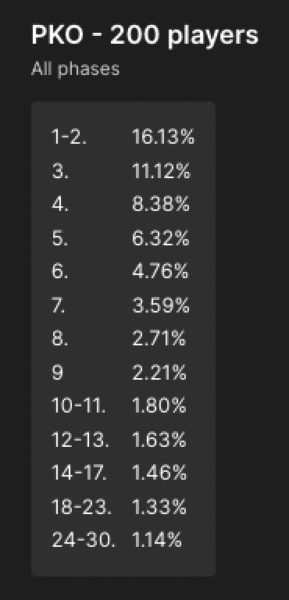 .
Our research indicates that ICM has a significant impact on your strategy even during early and mid-stage MTT spots. So we've added ICM solutions for 100% and 75% of the field remaining. These cutting-edge solutions are among the first of their kind, designed to help you crush the competition!
We've added more ICM solutions near the Bubble when risk premium skyrockets. Surviving the bubble to cash is an essential part of tournaments! The new Near Bubble solutions show how to play on the money bubble, 33 players remaining with 30 places paid.
Finally, we added symmetrical final table solutions. These are great for comparisons to ChipEV and other tournament stages, and make useful benchmarks for how your strategy changes throughout the tournament.
Aggregate reports compile data from all flops to help you find global trends and build heuristics! Watch our latest guide on how to study with them efficiently. The following aggregate reports are now available.
Cash General, NL50 & NL500; 150BB, 200BB (ALL SPOTS)
Cash Simple, NL50 & NL500; 150BB, 200BB (ALL SPOTS)
Now you can study deepstacked heuristics in cash games!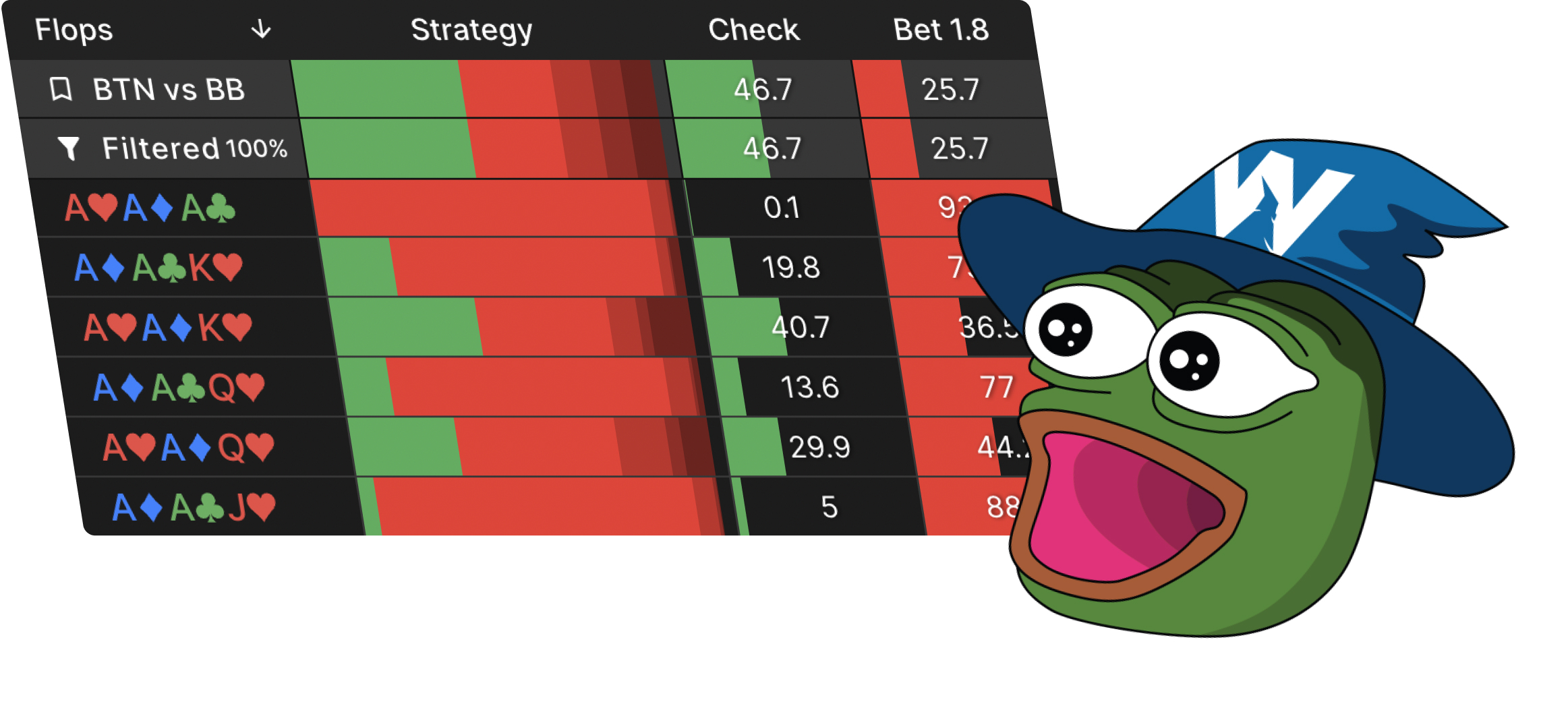 We've made over 50 interface improvements in this update! We will settle for nothing less than delivering the ultimate poker training experience.
There are too many small improvements to list everything; here are some of the most exciting updates:
Added Sounds
Visually accurate representation of chips
Display payouts and Bubble Factors while training
Improved Drill Management
Show opponent's cards after hand even when auto new hand is set to instant
New trainer session endscreen messages
Option to display bet sizes in chart mode of trainer
Redesigned layout
Most of these improvements were suggested by our users in the discord server using the #Ideas-and-requests channel. If you have an idea to improve GTO Wizard, or just want to join a great poker community, then click the link above!
We've developed so many new features that we needed to update our dashboard! This is just the beginning. We intend to add a lot of custom widgets so you can configure GTO Wizard to your liking.
Now you can see your trainer and analyzer stats on the homepage, as well as new content to help you learn GTO!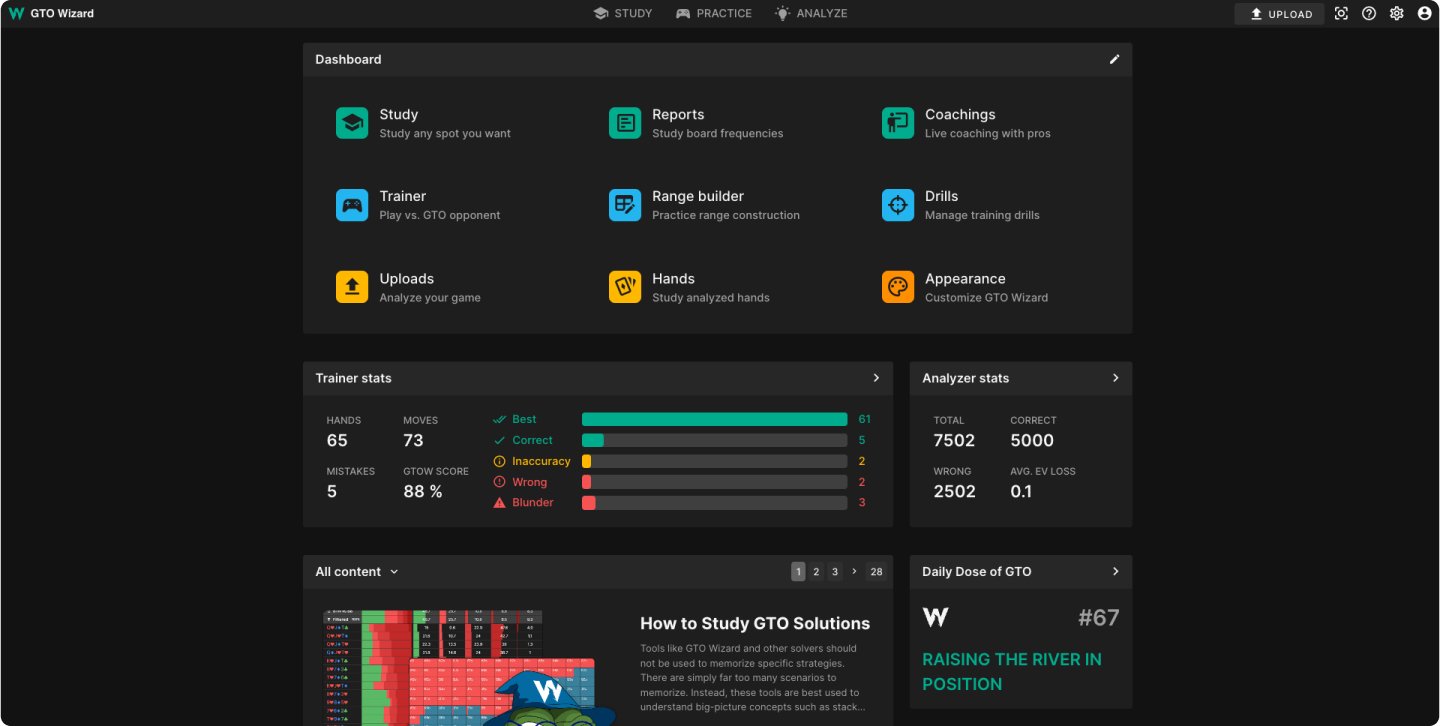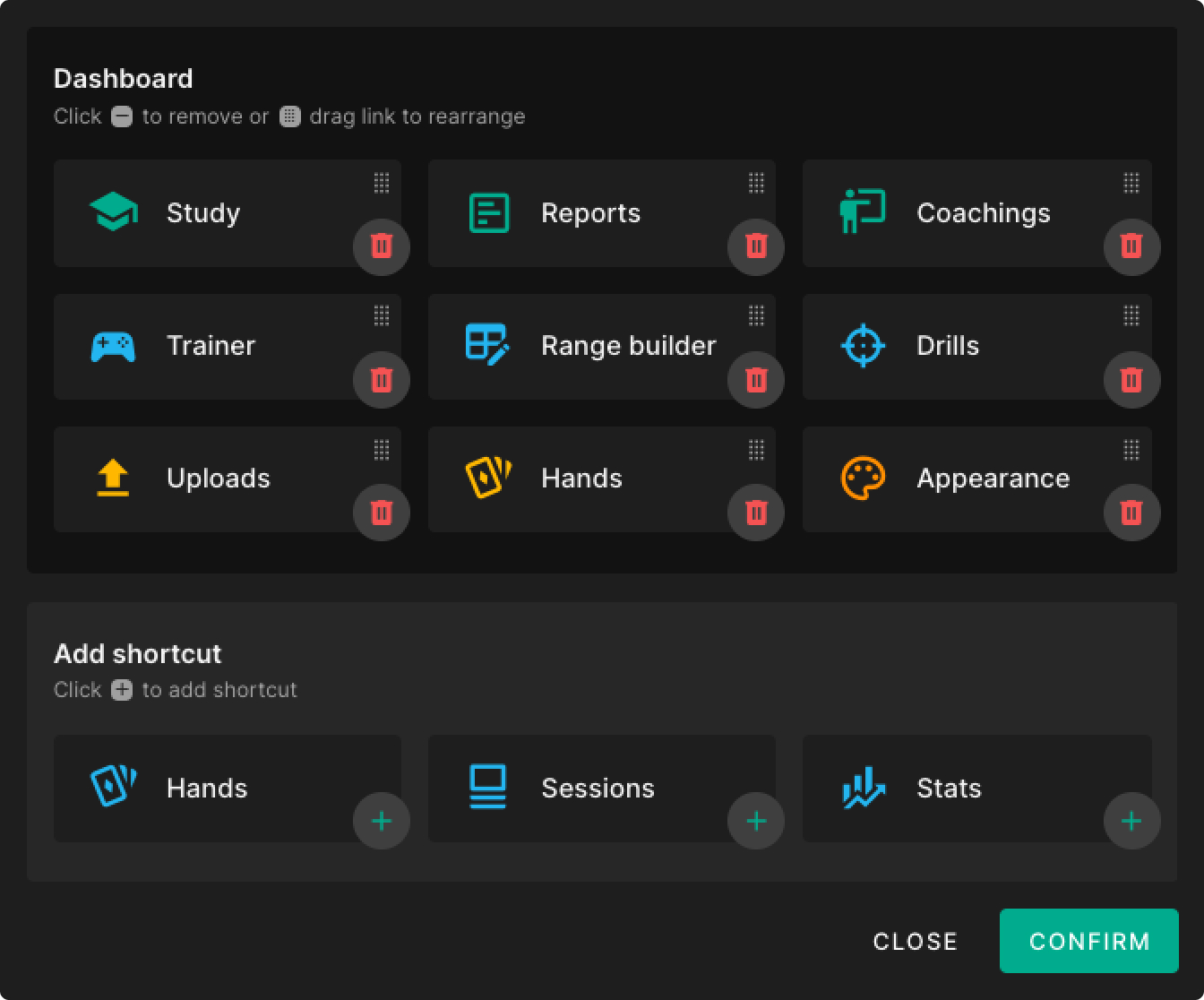 Bubble Factor is a measure of how much more losing hurts than winning helps you in MTTs. It's a measure of survival pressure and an essential tool for understanding ICM spots! The higher your bubble factor against some player, the more cautiously you need to play against them.
Bubble Factor is defined as the ratio between how much tournament equity ($EV) you'd lose getting stacked, divided by how much $EV you'd gain stacking some player in the tournament.
In a chipEV scenario, the BF is 1 because losses are equal to wins. In an ICM scenario, losses hurt more than wins, so the BF is greater than 1.
Risk Premium is defined as how much extra equity you'd need, compared to a cEV pot odds calculation, to breakeven against a shove against some player.
You can access these metrics underneath the solution selector: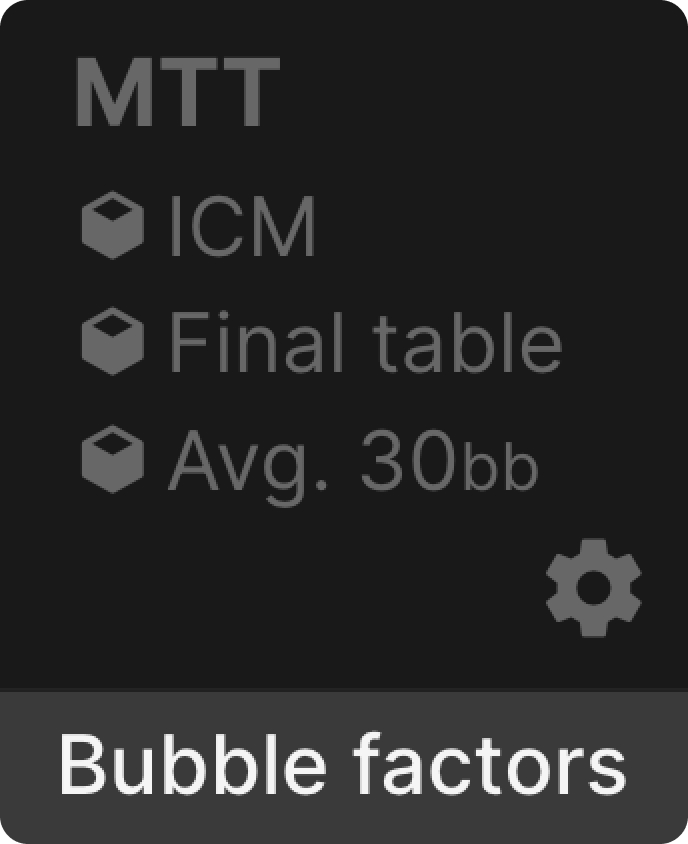 Note that each player has a different bubble factor and risk premium against every other player in the tournament.
You can move this window by dragging the icon in the top-left corner, and pin it in place by selecting the pin in the top-right corner.
New Trainer sounds and visuals
This update includes dozens of minor updates to the trainer to give you the best experience.
Added Sounds
Visually accurate representation of chips
Display payouts and Bubble Factors while training
Improved Drill Management
Instant next-hand settings show a showdown of both player's hands now
New session summary endscreen messages
Option to display results in chart mode
Redesigned layout
Gamify your study sessions with sounds! Enable sounds in the trainer controls:
Chips are now color-coded according to bet size to give the feeling of playing on a real poker site.
You can see the payouts and bubble factors while training.
Open the info panel, and select the $ symbol

in the top right corner.

We've taken several steps to improve drill management! Now you can rearrange drills on the main trainer page! Open the trainer. Before you start your session, select "My Drills". Drag and drop using the left icon on each drill: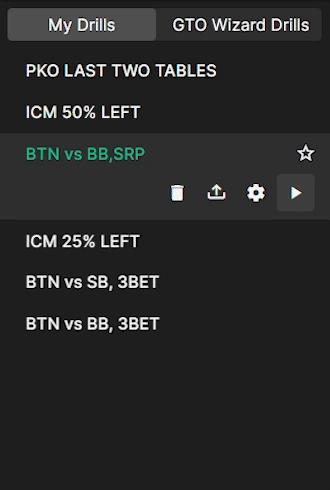 All Tags – Filter for drills that contain all selected tags
Any Tag – Filter for drills with at least one of the selected tags
For example, if you have tags for BTN and 3BP, you could use the "All Tags" criteria to find BTN 3BP drills, or the "Any Tags" to filter for any drill with either tag.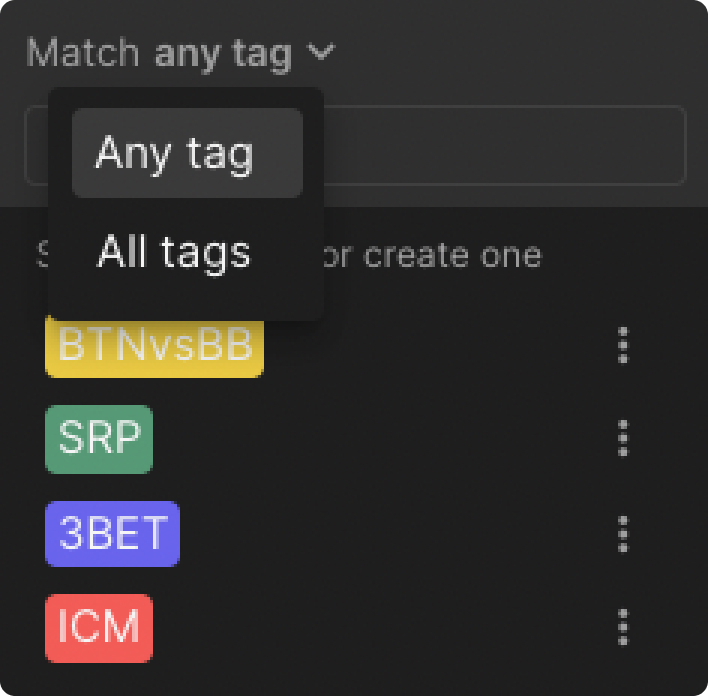 Now you can see exactly what hands you've practiced using specific drills. Open any drill from the drills management page and select "show hands".

We've redesigned the layout of the main trainer page to improve your training experience. All practice mode pages are now shown on the left-hand side of the main trainer page menu. Drills have been moved to the right-hand side. You can add new drills and manage existing drills by selecting these buttons

in the bottom-right corner.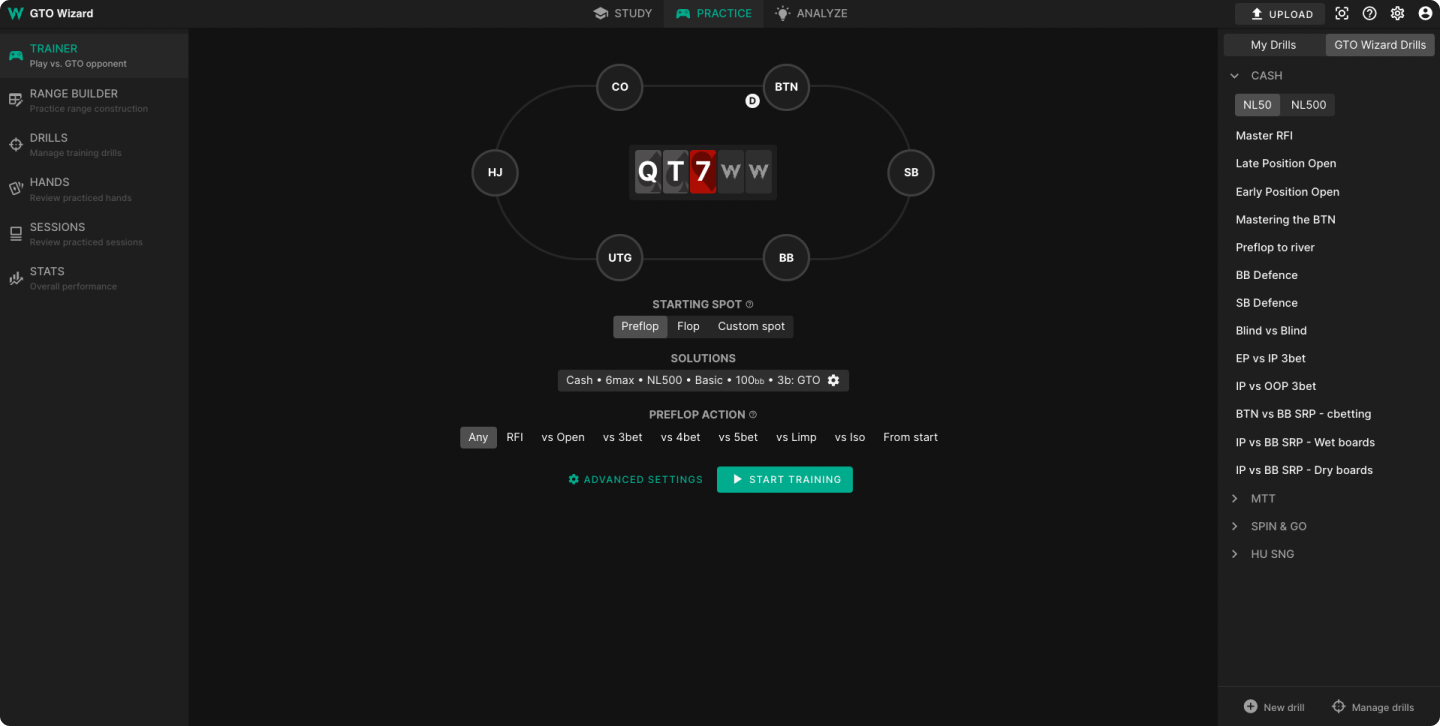 We've added a 1s delay in the trainer after the hand ends so you can see the opponent's cards. Previously, the opponent's hand was not shown if you set the Auto New Hand control to instant. This caused a lot of confusion among our users. That's why we added a delay so you will always see your opponent's hand.
We've added several new endscreen messages that correspond more accurately to your session performance!
Now you can view actions in chart mode while training. Select the Pause game after -> Action or Mistake option. Correct frequencies are shown after either a mistake or any action, depending on preference. Select the three dots next to continue to toggle the display as either a grid or a chart.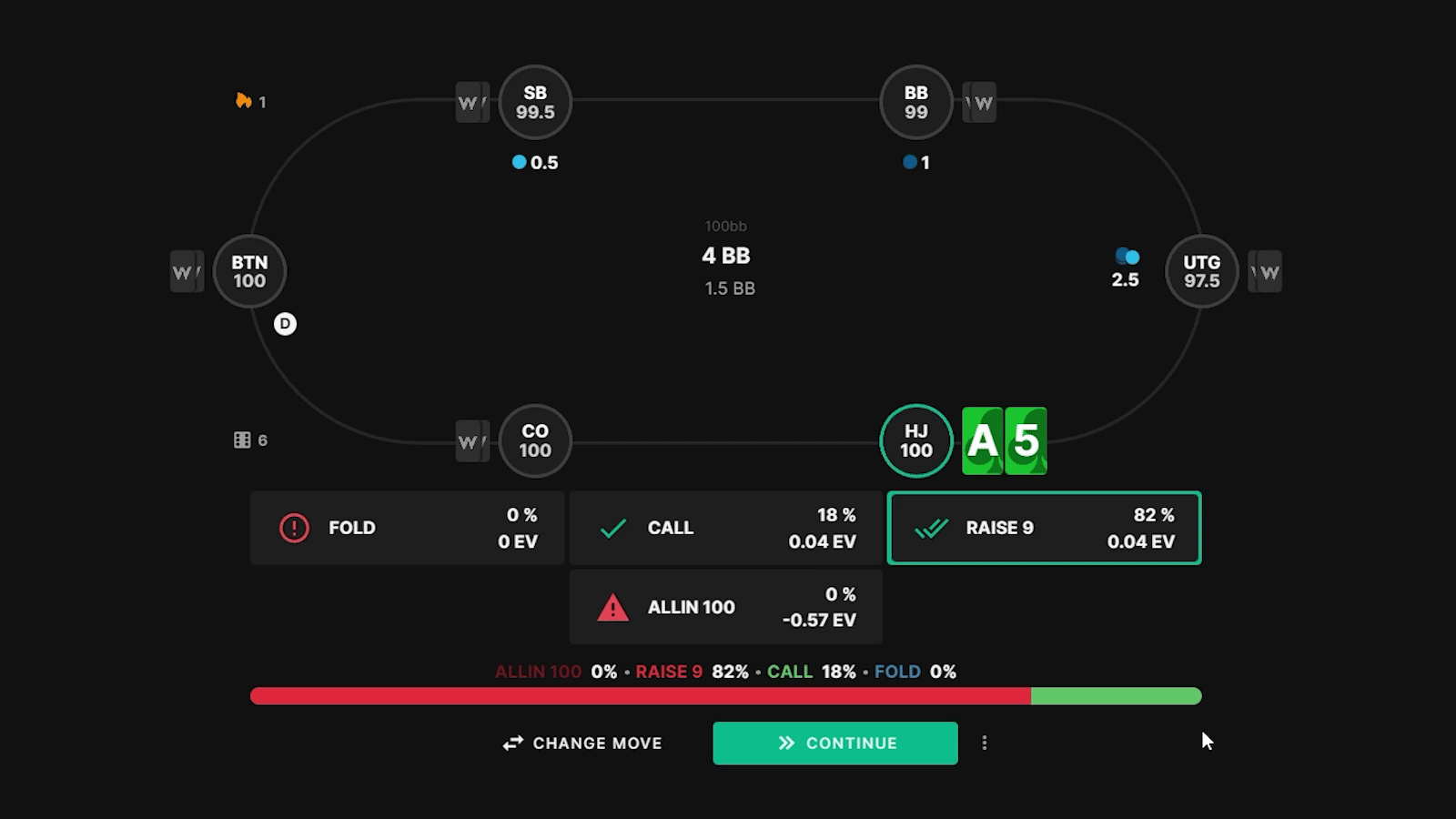 Conditional highlighting in reports
Aggregate reports are a powerful tool that allow you to build heuristics based on flop textures.
Now you can highlight the text and background of aggregate flop reports in table mode! Open aggregate reports and select table view (or press w). Use the highlight dropdown to highlight and colorcode the background or text in reports!
This feature helps you interpret strategies, trends, and brings the data to life.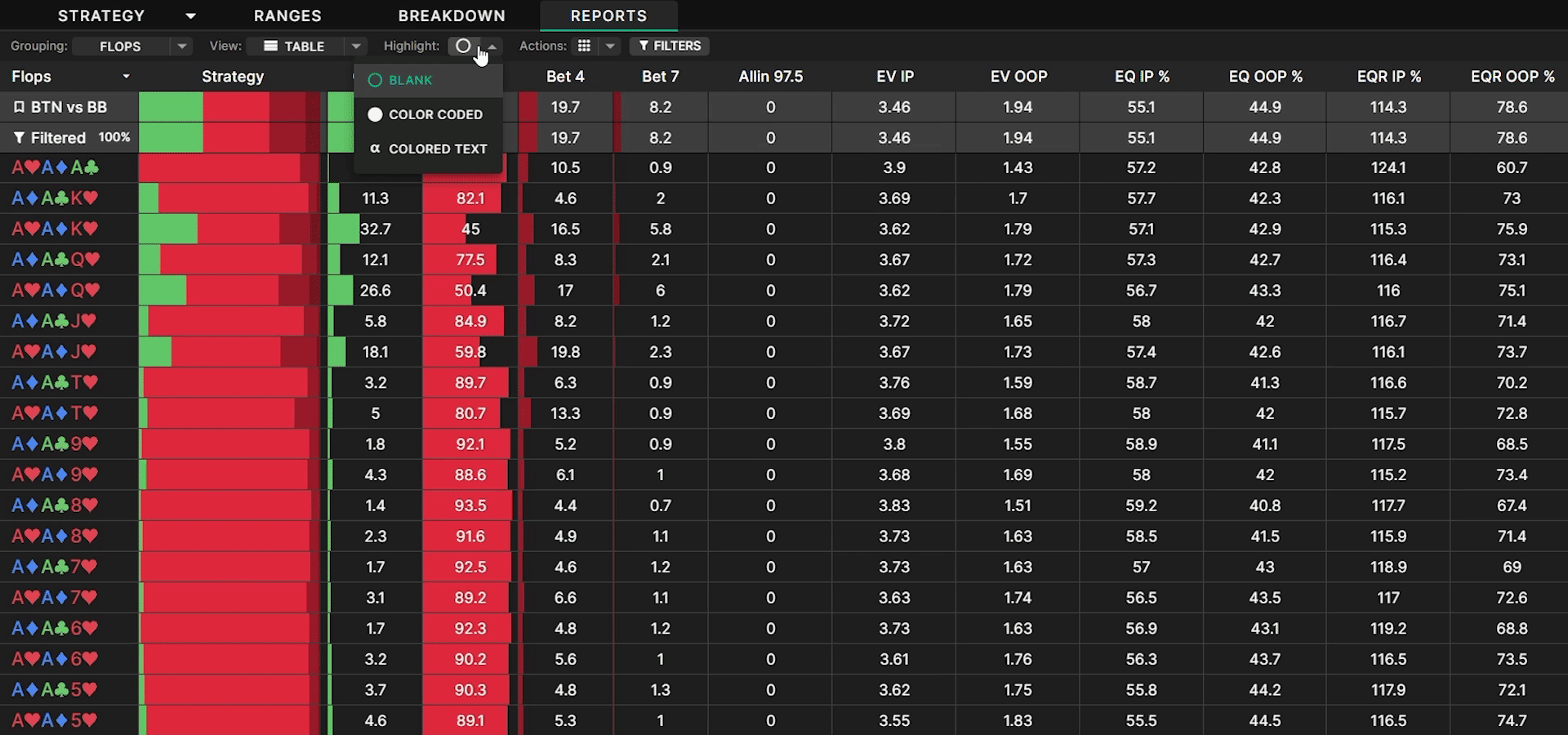 With this update, we're allowing users to define their own hotkeys. You can even choose up to four simultaneous keys per command. Hotkeys are a great way to study more efficiently!
Now you can select multiple files at once using the Shift -> Click command! Select one checkbox, then hold shift and select a checkbox below it. Every checkbox in between will be selected! This is a great shortcut for selecting a group of files.
This shortcut can be used anywhere in GTO Wizard, such as analyzed hands, training drills, or sessions.
Our previous updates added support to view actions as a group or a chart. Why not both?! We've added grouped chart view!
Select the chart dropdown in the solution browser. Then select either Grouped or Simple (or press 'S') to group similar actions together while displaying it in a chart.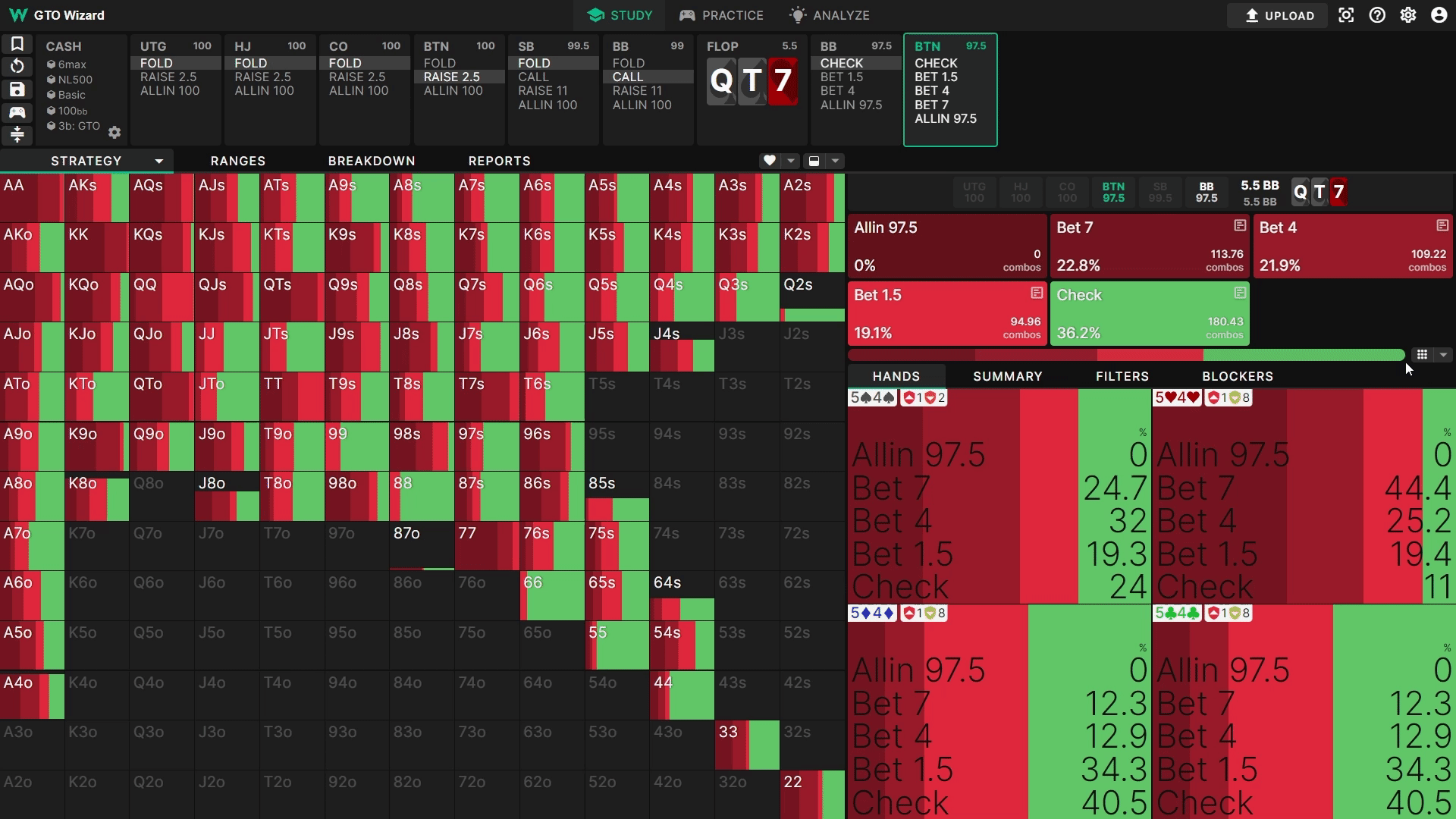 Note that you can view an action summary breakdown by hovering over the bet sizing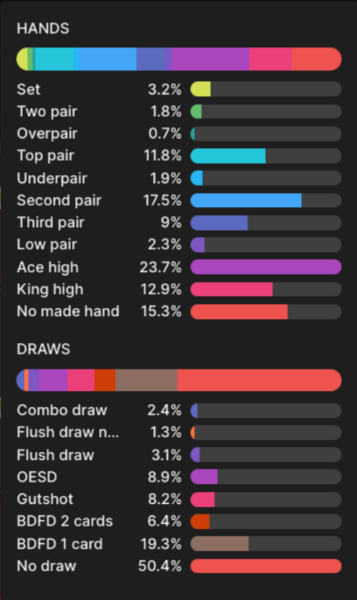 below each action in chart mode.
Support for Upoker hand histories

We've added support for Upoker hand histories in our Hand History Analyzer! Follow this guide to learn how to find and analyze your hand histories using GTO Wizard.
We've fixed all reported bugs to deliver a smooth experience. If you spot any bugs or have questions or suggestions, contact us on our Discord server!