ICM MTT, 9Max Cash Solutions & Great Improvements
Wizard's, we are releasing some highly anticipated new solutions and significant user interface upgrades today!
Check out our new ICM MTT spots, HU MTT, deepstack cash, and 9max cash solutions.
We performed a major upgrade to our unfrastructre so GTO Wizard is much faster!
Try out new Trainer features, including timebank, session mode, and learning mode.
We completely overhauled the appearance customization settings so you can study in style!
We've also improved the interface on mobile, condensed the flushdraw filters, fixed all reported bugs.
ICM MTT; 3, 4, 5, 6 and 8 players, total of 83 situations (PREFLOP – PREMIUM)
HU MTT; 1BB to 60BB – 37 depths with ante (ALL SPOTS – PREMIUM)
9Max Cash General; 100BB (ALL SPOTS)
9Max Cash General 2.5x; 100BB (ALL SPOTS)
6Max Cash NL500 – General; 150BB, 200BB (ALL SPOTS – PREMIUM)
6Max Cash NL50 – General; 150BB (ALL SPOTS – PREMIUM)
HU Cash – Simple; 200BB (ALL SPOTS – PREMIUM)
ICM MTT
ICM encapsulates the value of survival in latestage MTT's. ICM pressure can completely change the optimal strategy! Our ICM solutions have 83 different situations covering 3-8 player final table scenarios. These are available to Premium MTT members only. We will release more situations in upcoming updates. See the payout structure below.

HU MTT
Heads-up play is a decisive skill in endgame tournament strategy. Therefore, we've added new heads-up MTT solutions covering 37 stack depths between 1 and 60bb effective. These solutions include a 0.125bb ante.
9Max Cash
Fullring cash game solutions were among the most requested solutions! So we've added 9max cash solutions 100bb deep. You can choose between optimized opening sizes (smaller from early positions), or a 2.5x open from UTG-BTN. These solutions are available to starter cash game users, covering all postflop spots. The rake structure is 5% to a 4bb cap.
6Max Cash
Premium users can take advantage of our deepstack General 6max cash game solutions, including 150bb depths for NL50 and NL500 rake structures. We've also added 200bb effective spots to our NL500 solutions. We just need to add the final 200bb spots to NL50 (coming soon) to complete our General solution set!
HU Cash – Simple
Our HU cash game solutions now include 200bb postflop spots. Gain an edge on your competition by learning the secrets of optimal deepstack HU play.
New Features & Improvements
GTO Wizard is now way faster
We have significantly improved our infrastructure. The hand history analyzer is over ten times faster so queues are virtually gone! The trainer also loads 30% faster. We'll monitor usage and upgrade our infrastructure to ensure a seamless studying experience.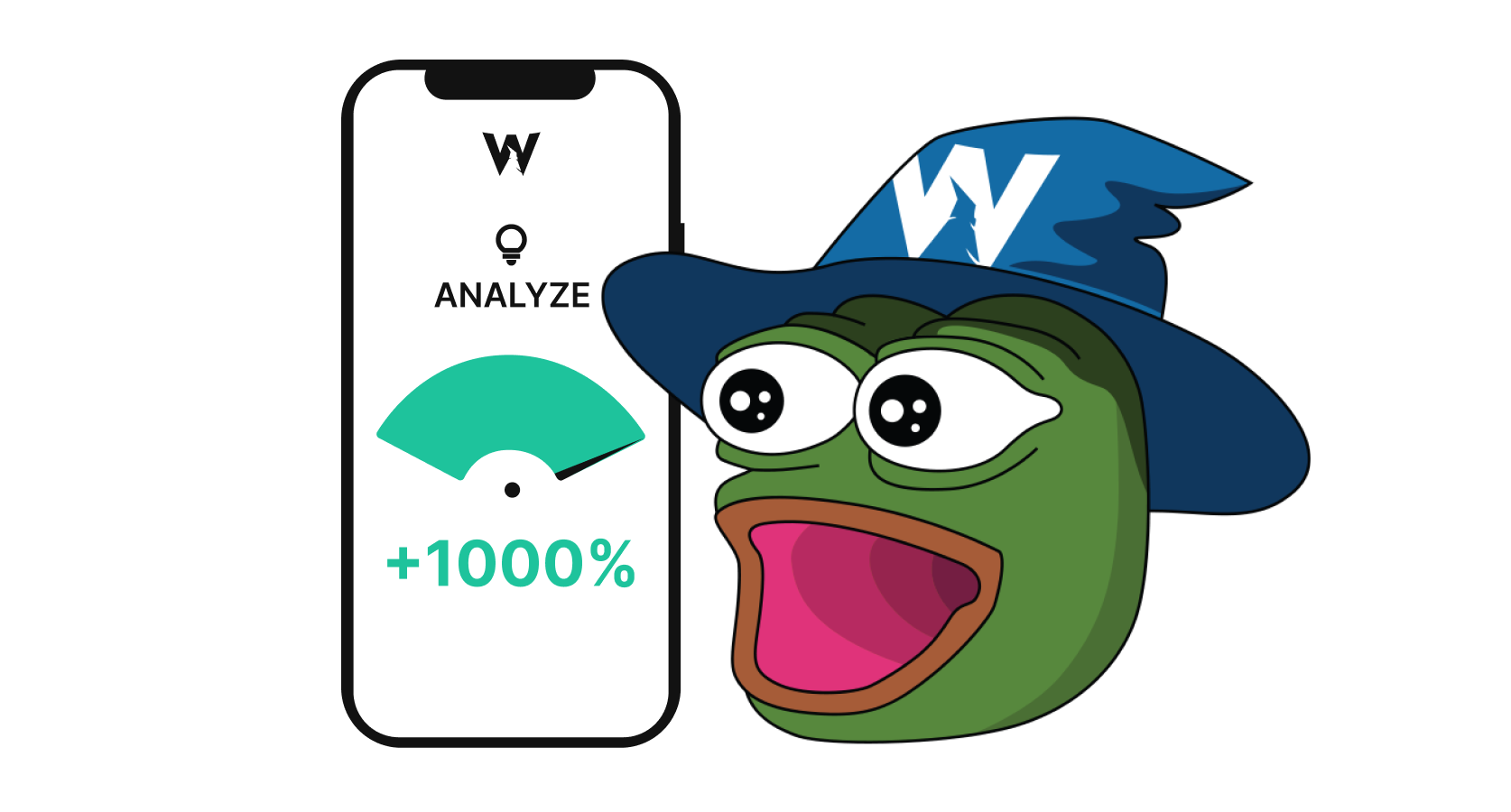 Trainer Updates
We've added three new settings to the Trainer – Learning mode, Timebank, and Session mode. We also added some new animations, made the action buttons color-customizable, added a hand counter, and improved the interface.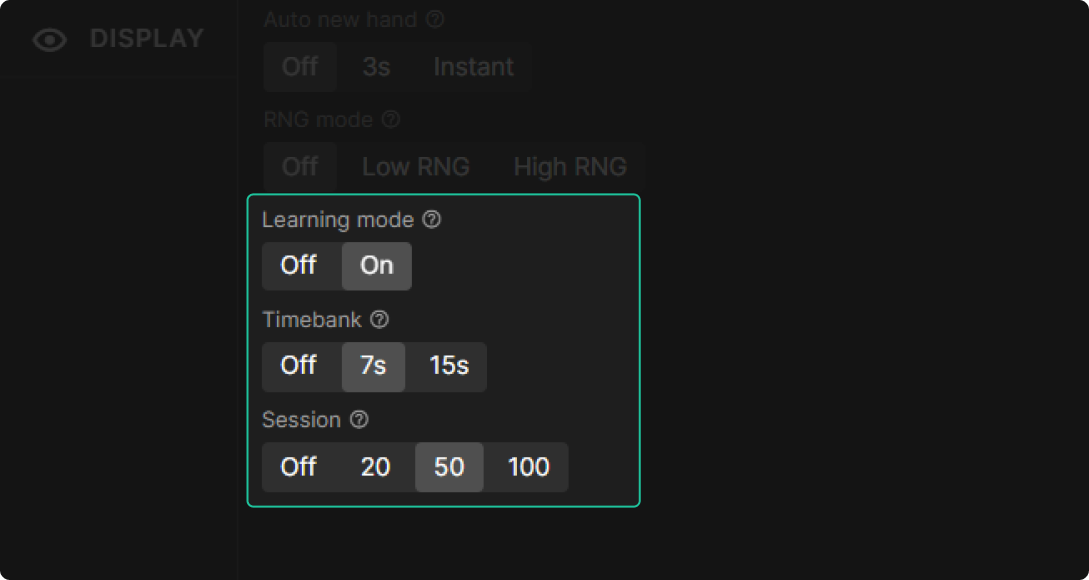 Session Mode
Select how many hands you would like to practice. After you finish, you'll get an overview of your session! Great for building good study habits, warmup drills, and sharing with friends.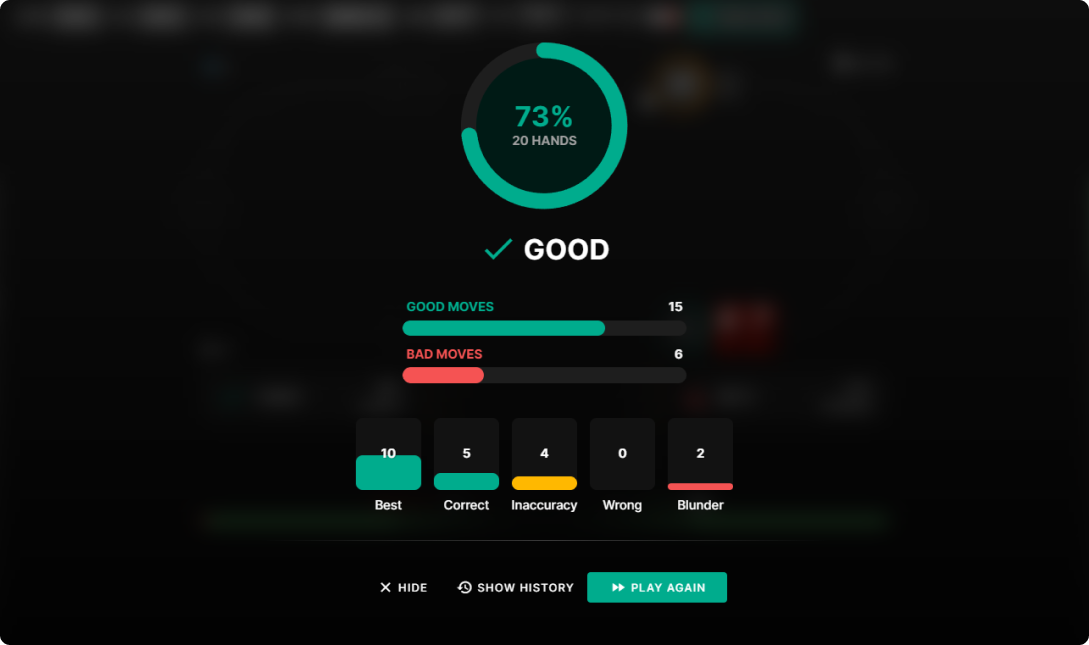 Learning Mode
This mode hides the information panel during play so you don't see any help, then reveals it once you make an action or a mistake. It's great for testing your skills and improving at the same time! Don't forget to select "Show results after" action or mistake otherwise, this mode won't work as intended.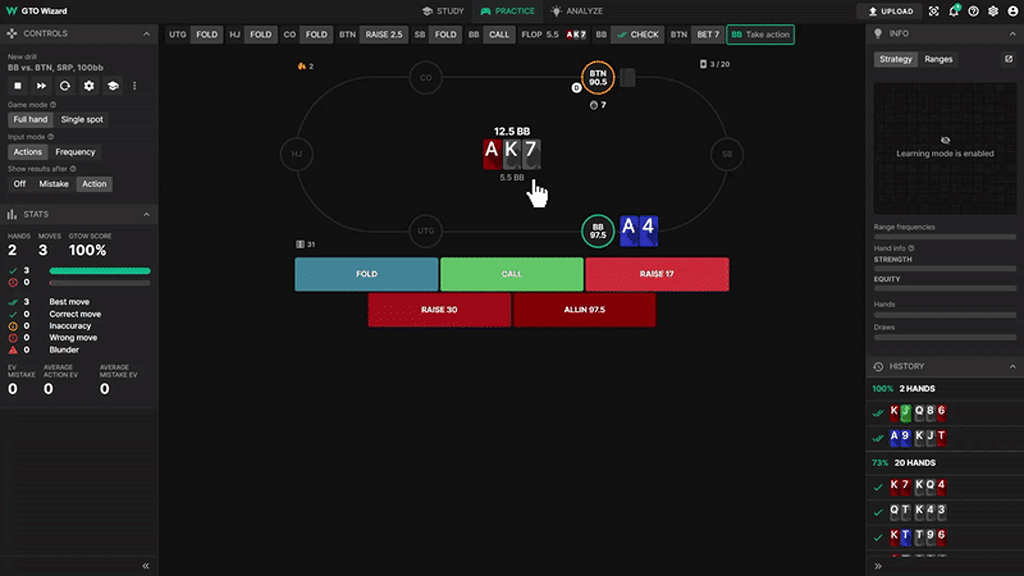 New Timebank Mode
Add some pressure to your drills by selecting a timebank for your decisions. Your hand will be automatically checked or folded if you run out of time. Great for simulating the pressure of real play! You can choose between 7 or 15 seconds timebank.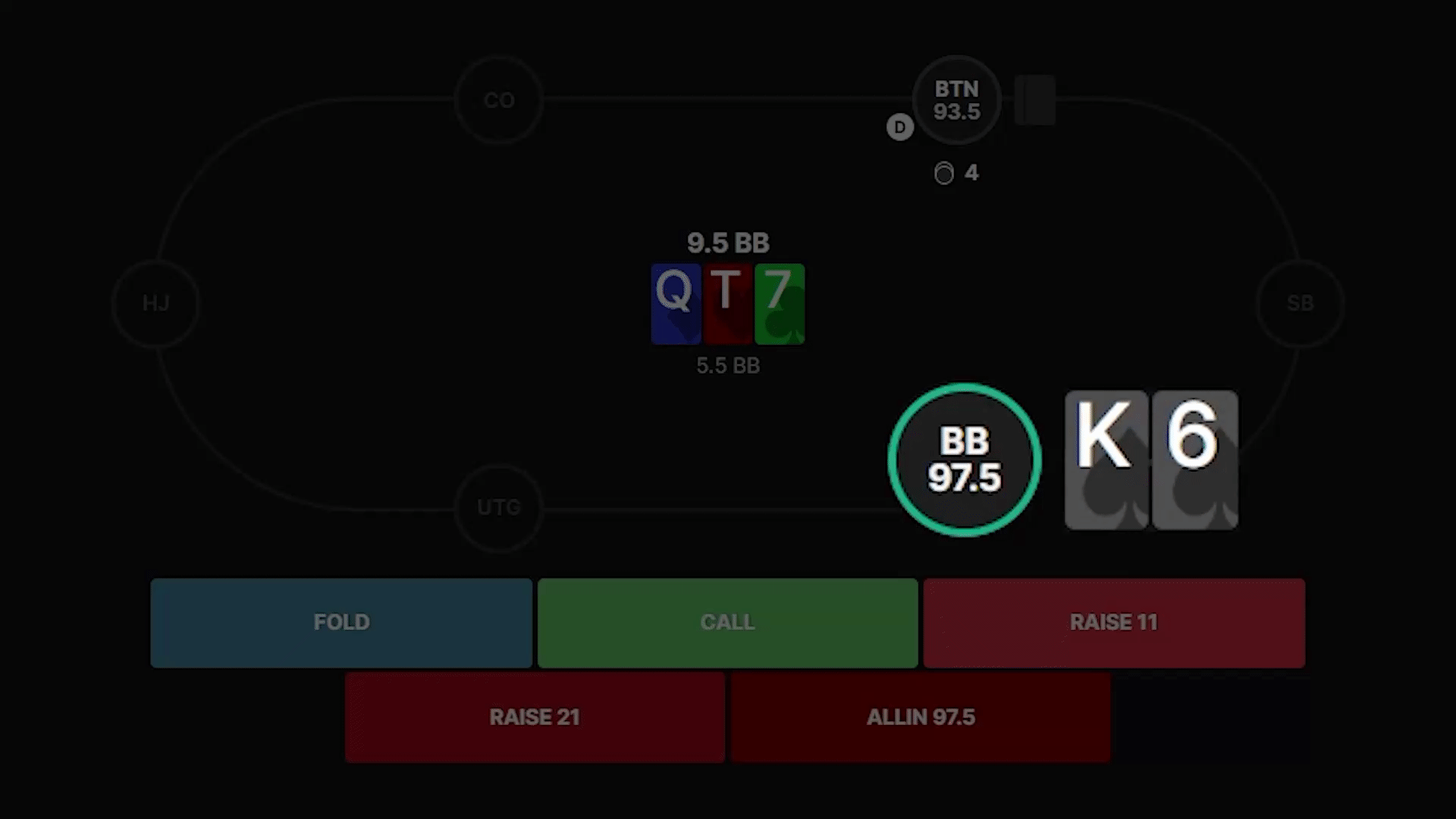 Change the color of the buttons in the trainer 
Previously, users' color themes would not apply to Trainer mode. We've overhauled the customization so you can strain in style. See more about customizing your colors below!
Added hand counter 
Previously, you could only see how many moves you had made in a session. Now we've added a hand counter so you can better track performance. We have temporarily disabled all-time stats as we are preparing a new stats/tracking system.
Interface updates
New customization options
We have completely overhauled the appearance menu and added many new options to customize the appearance of solutions. For example, now you can edit the appearance of card backs, text colors, text shadows, and background colors in the solutions. We also added new card themes!
In previous updates, we added support to define colors for actions, suits, range gradients, and card themes. Now wizards have complete control over how they choose to view solutions!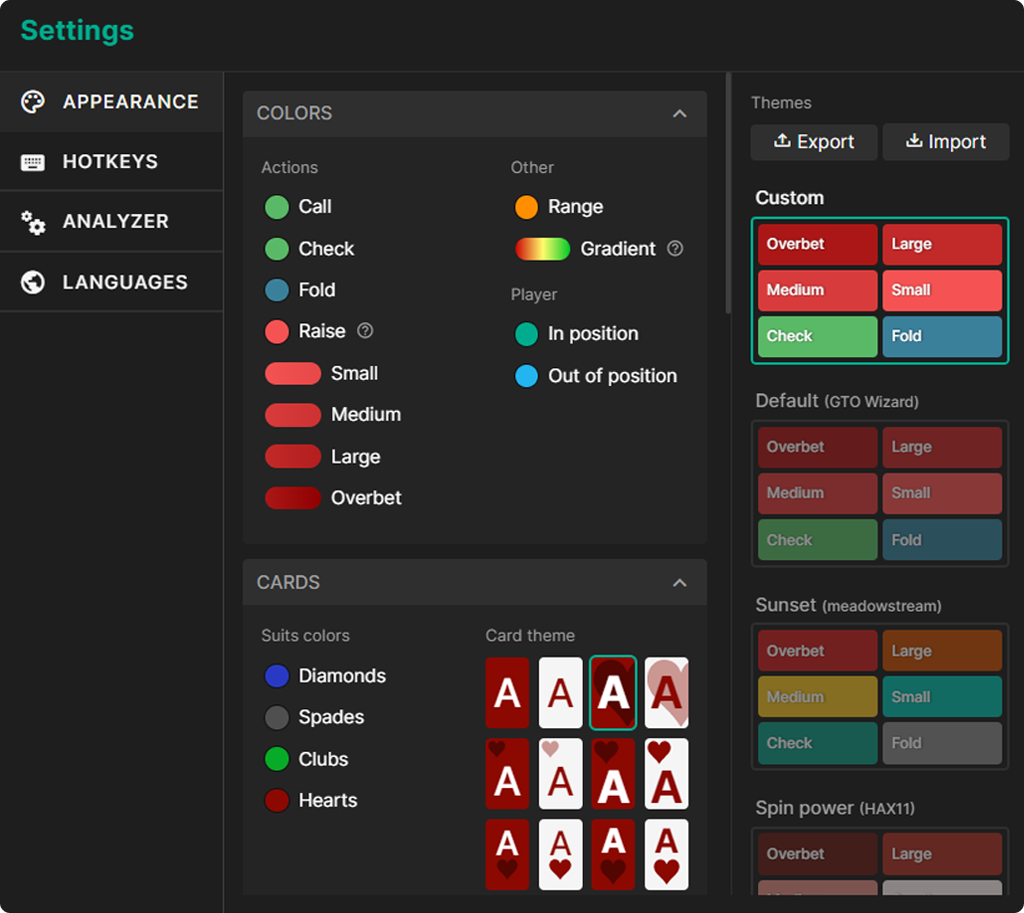 New card themes and the ability to choose from different card backs! The card backs are shown in trainer mode as your opponent's hidden hand, whereas card themes are used for shown hands. You can also change the colors of the card backs.

Complement your new theme with customizable text options. You can define different colors and shadows in the hand and strategy matrix, and change the background colors. For example, you can display different background colors when a hand is folded vs partially in range, and change the color of text inside the strategy matrix.

Let's go over an example of how these new options can change appearance.
On the left side, you can see the default GTO Wizard theme; on the right side, you can see a new theme after we have applied a total of 6 changes.1. Change background of folded cards
2. Change background of active cards
3. Change text color in strategy matrix
4. Change text color in hand matrix
5. Change text color and background of actions
6. Change card theme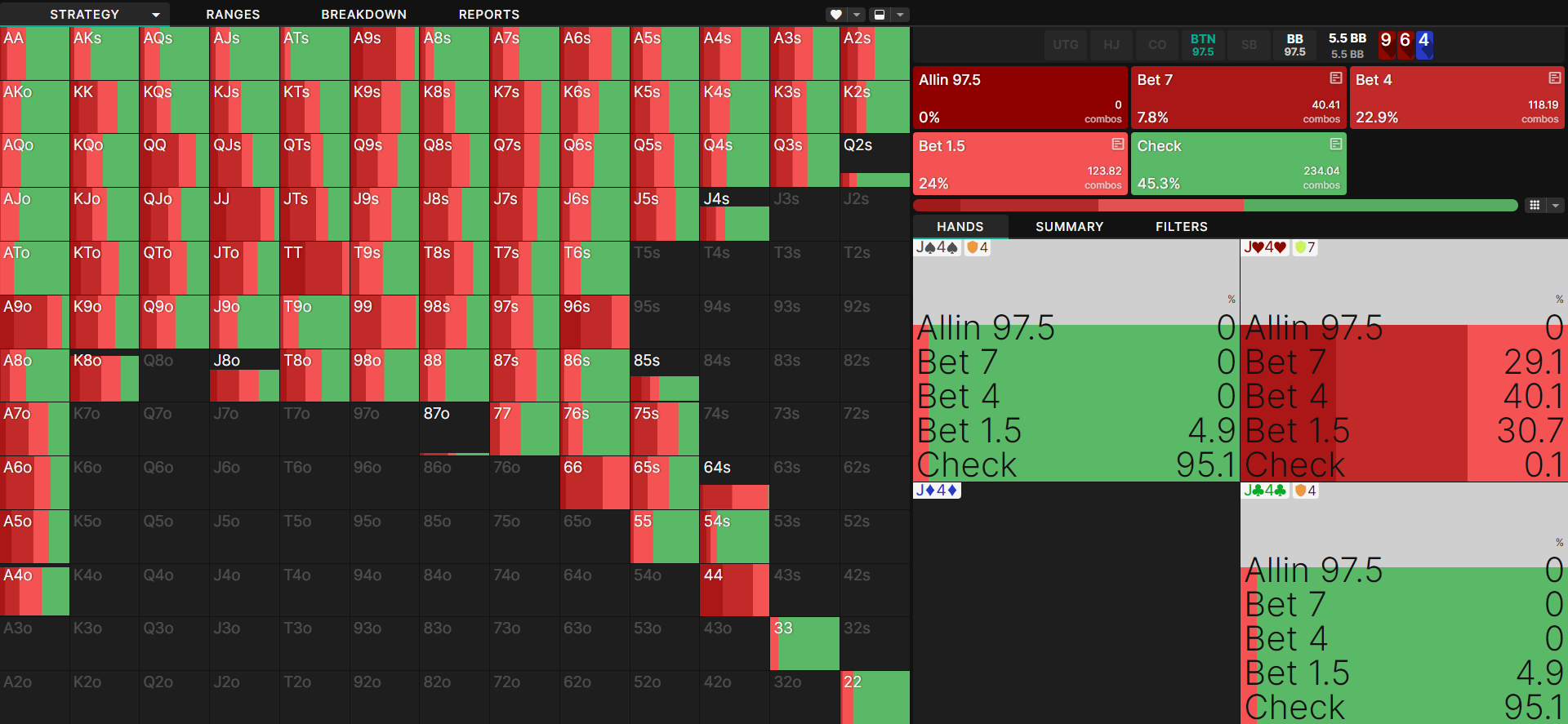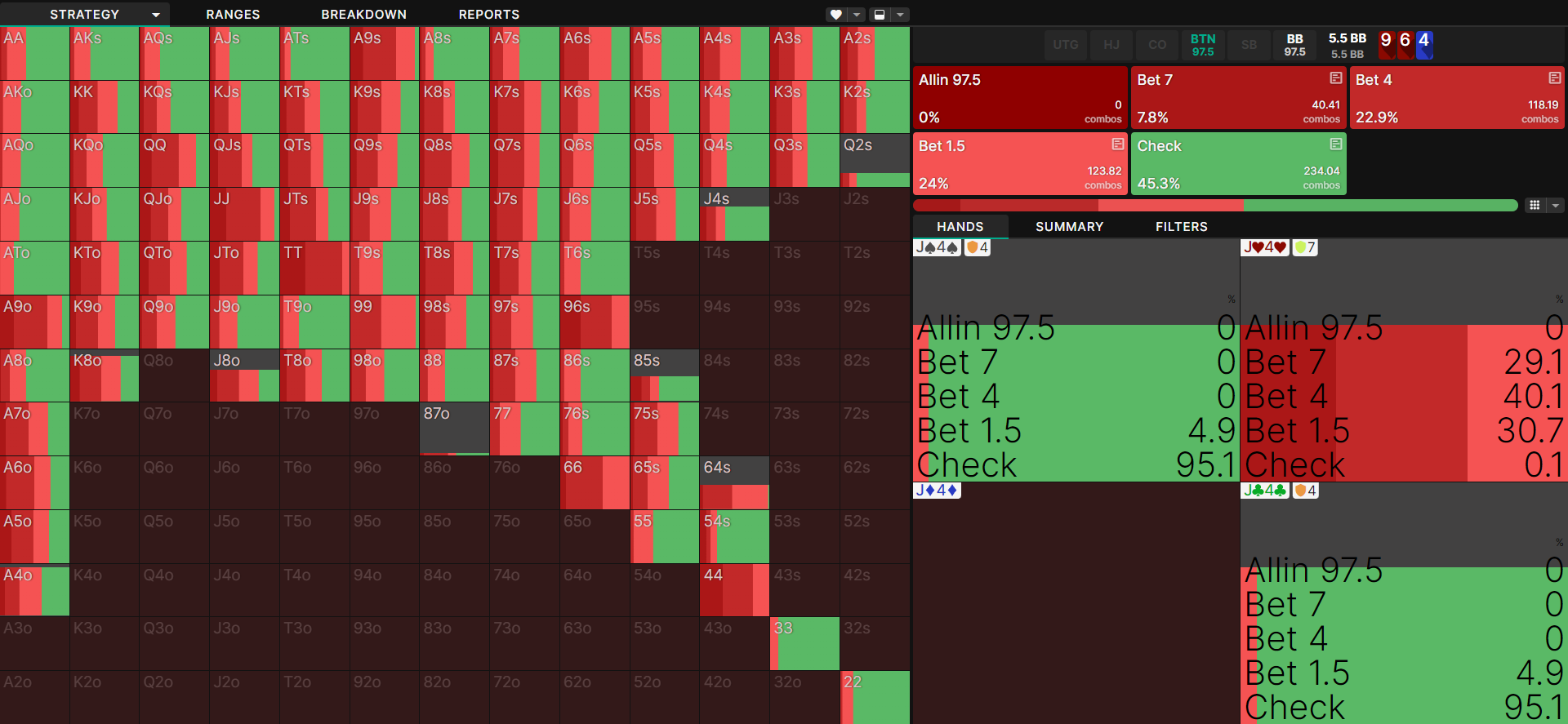 Updated draw categories
We recently added filters to identify FD and BDFD hands according to 4 categories. This was cumbersome, so we've reorganized the flushdraw and backdoor flushdraw hand categories as follows:
FD: Contains all flush draws
FD – Nuts: Contains only the nut flush draw
BDFD – 1 card: Backdoor flush draw with 1 hole card
BDFD – 2 cards: Backdoor flush draw with both hole cards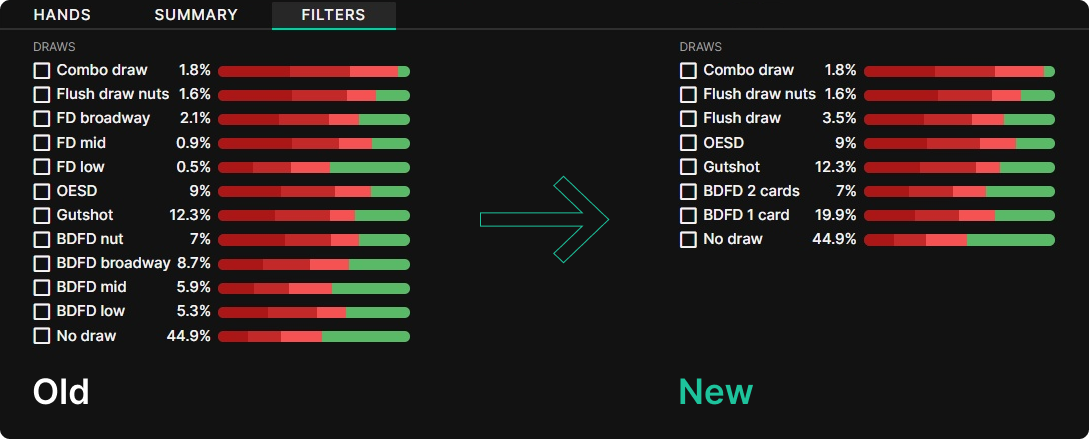 Mobile improvements
We improved the UI of the mobile layout. This update makes it possible to view bet/raise sizes as both % pot & BBs simultaneously and use grouping functions in aggregate reports. We add other minor improvements to improve the mobile experience.
Thank you for reading the patch notes and happy griding!