Introducing GTO Wizard AI
In every industry, there are those pivotal moments when technological innovations redefined the game completely. The world of poker is no exception. We saw how trackers transformed tactics, how HUDs elevated real-time strategies, and in 2015, we watched as solvers revolutionized our perception of optimal strategy.
Today, we are proud to introduce another technological breakthrough – GTO Wizard AI. This powerful technology can accurately solve any poker spot in seconds!
Unlike presolved solutions, custom solving allows you to edit the solving parameters. You can modify ranges, adjust the stack and pot size, add or remove actions, customize the betting tree, and automatically simplify and optimize your bet sizes!
In our relentless pursuit of excellence, we're delighted to announce that GTO Wizard has joined forces with Ruse AI, the creators of the most advanced poker AI in existence. The Ruse team has joined GTO Wizard, and their cutting-edge technology now powers our custom solutions!
Say goodbye to the limitations of presolved solutions with GTO Wizard AI!
In the past, we solved spots using traditional solvers, then uploaded them to a library of solutions. Presolved solutions are fast and useful, but this meant users couldn't change anything about the spot. This is where GTO Wizard AI comes in.
With custom solving, you can change every parameter and solve in seconds!
Edit the player's ranges
Change the stack and pot size
Add or remove actions
Customize the betting tree
Automatically simplify and optimize your bet sizes
That's right, GTO Wizard AI can automatically simplify your strategy with the highest EV sizes at every decision point!
This doesn't merely simplify or reduce sizes using a predetermined solution. Rather, our solver employs artificial intelligence to estimate the expectation of all possible betting strategies at each decision point. It chooses the size that retains the most EV out of a list of predefined sizes, which you can customize to your liking.
How accurate are these solutions, you ask? Very. We've accomplished speed and accuracy that outperforms all benchmarks. We decimated the ACPC champion Slumbot for 19bb/100 in a 150k hand HUNL match, and averaged a Nash Distance of only 0.21% pot when nodelocking these solutions against PioSolver.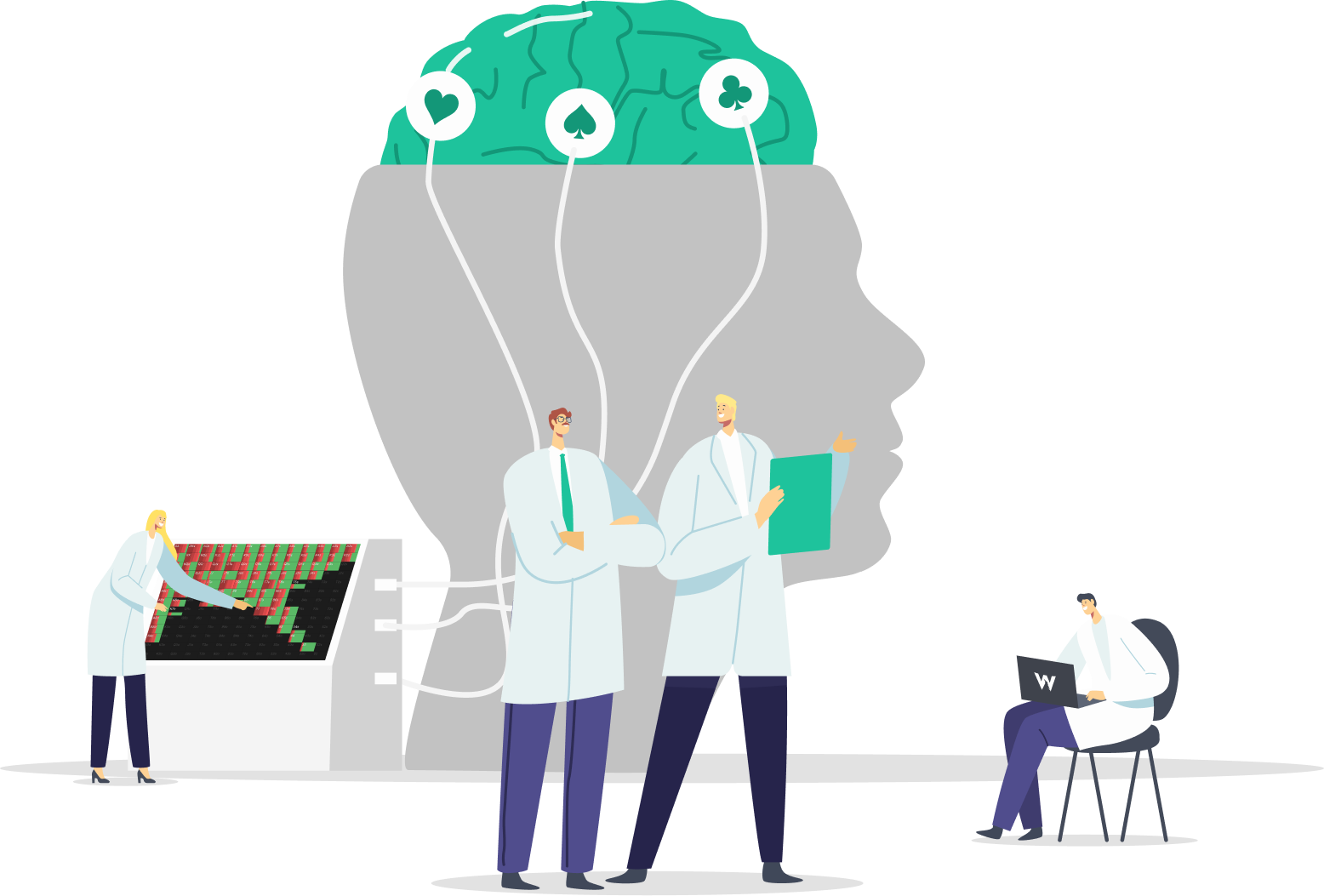 This is just the beginning. We are on a mission to disrupt the poker industry and deliver a cutting-edge, immersive poker training experience. We're building an all-star team working tirelessly to bring you the ultimate poker training experience!
The first version of our solver (as of July 2023) is restricted to two-player, postflop, chip EV spots only. That means you cannot specify a rake structure, choose ICM scenarios, assign bounties, or solve multiway spots. Additionally, The stack-to-pot ratio is limited to a maximum of 100 in order to ensure that our solutions are accurate.
Fair Play – Check if a hand was recently solved by anyone using GTO Wizard & more
HU Preflop – Solve two-player preflop spots
Edit presolved solutions – Customize and re-solve any postflop GTO Wizard spot
Nodelocking – Design exploitative strategies
Ultimate Training – Practice against GTO using whatever bet size you want
GTO Reports – Compare your analyzed hand history stats against GTO
Customized aggregate reports
Customizable rake structures
Solve any ICM structure
Assign PKO bounties
Multiway Preflop and postflop solving
Custom PLO solving
Translating solver outputs into human language to simplify the learning curve
Building adaptive solutions that more closely match the player's level and are easier to study

We're launching a new Elite tier for the best of the best. It's priced at $149/month (or $129/month with an annual subscription). However, to celebrate the introduction of GTO Wizard AI, we're offering a limited time Early Bird Discount starting from $109/month! The Elite tier offers unlimited exclusive access to GTO Wizard AI custom solves. Elite users will also be able to upload 150,000 hands each month to our Hand History Analyzer.
You can UPGRADE from Starter/Premium to an Elite membership at any time by paying the difference in pricing! If you want to try before you buy, all users can solve one flop for free: Q♠T♠7♥.
The early bird discount will end in November. Starter and Premium subscriptions will remain the same price after the early bird discount while retaining all of their current features.
Review the Elite tier to compare the features offered at each tier and Upgrade here.
With great power comes great responsibility! In addition to our current security measures, we partnered with poker sites to help keep the games fair, and we're building a fair play tool that allows players to check if hands were recently solved by anyone using GTO Wizard. Details about this will be announced in the next update.
But our ambitions go beyond simply preventing misuse of GTO Wizard. Our long-term vision is to completely eliminate unfair play in online poker. We're developing GTO reports that will allow players to compare every detail of their hand history stats with optimal play. Not only is this going to be a fantastic training tool, but it opens the door to something else. The fusion of lightning-fast adaptable solvers and detailed GTO reports will empower us to innovate robust methods of detecting unscrupulous play. These methods could potentially be used to detect super-human play from any large database of hand histories.