New Spins solutions, Study Plans & EV Comparison
Greetings Wizards, we have another fantastic update for you today! We've added a completely new sets of high-accuracy Spin & Go solutions (also Spins with ante). They include symmetric stacks and also more than 600+ asymmetric stacks situations. We have built Study Plan designed to equip you with all the tools you need to crush low-stakes competition. We've also added several useful UI improvements, such as an EV comparison feature, new Trainer settings and more!
Spin & Go; NEW General Solutions (ALL SPOTS)
Spin & Go; NEW Simple Solutions (ALL SPOTS)
Spin & Go + Ante; NEW General Solutions (ALL SPOTS)
Spin & Go + Ante; NEW Simple Solutions (ALL SPOTS)
MTT PKO 3 Tables Left; 8-6max – 138 NEW Solutions (PREFLOP – PREMIUM)
MTT PKO 2 Tables Left; 8-5max – 165 NEW Solutions (PREFLOP – PREMIUM)
MTT PKO Final Table; 3max – 44 NEW Solutions (PREFLOP – PREMIUM)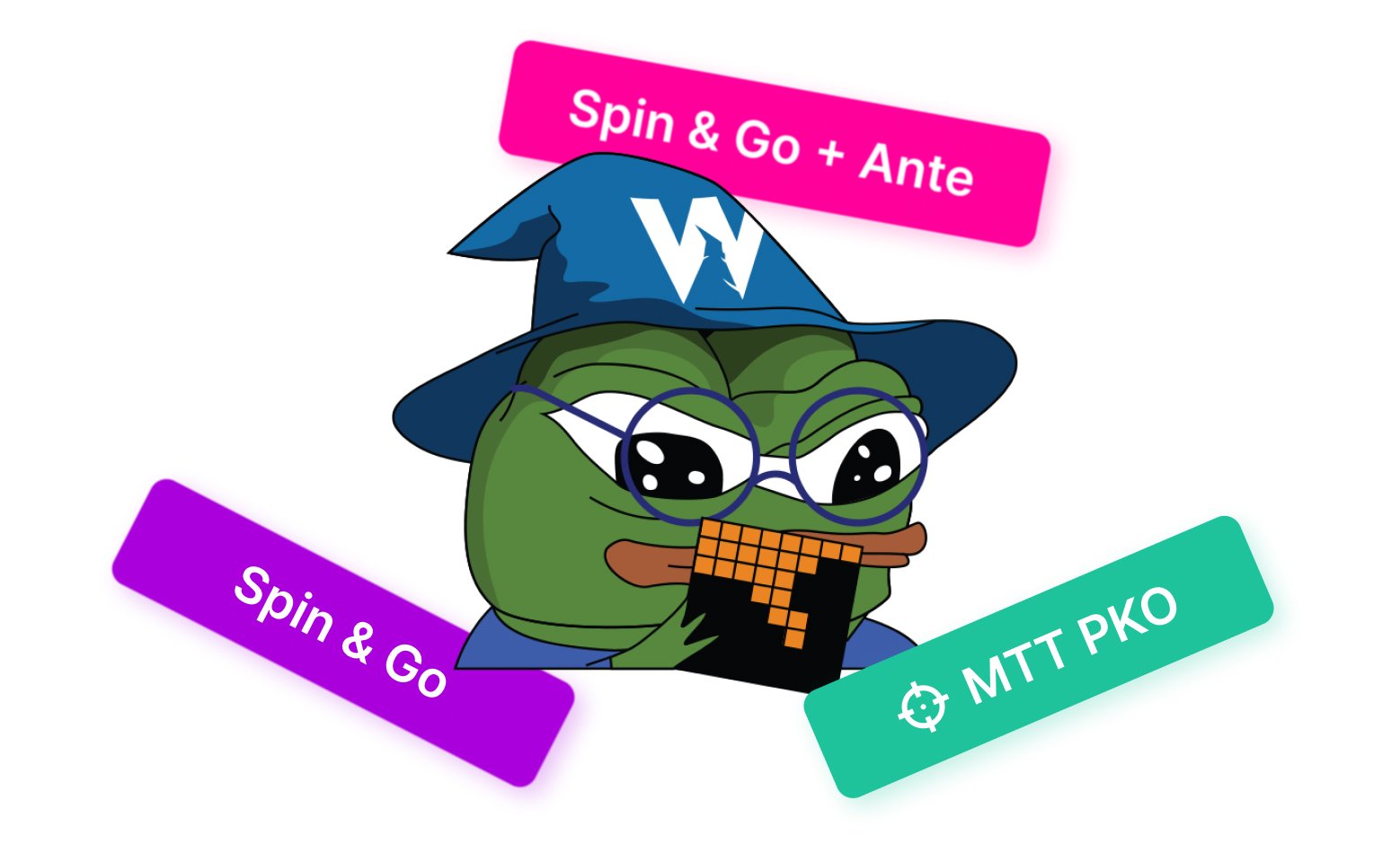 Our latest Progressive Knockout (PKO) solutions cover scenarios where two or three tables remain. All of our PKO solutions feature ICM calculations so you can weigh the tradeoffs of tournament survival against playing for bounties! The bounties are calculated based on a starting 200-player field, with a $200 buy-in ($100 entry + $100 bounty).
We've added a new Spin & Go + Ante format that uses a 0.17bb ante per player, with 16bb starting stacks. This was among the most requested solutions from our Spin community!
Next, we replaced the General solutions with ultra-high accuracy solutions! These were solved to an eye-watering accuracy of 0.1%-0.017% of the pot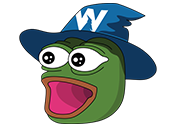 Additionally, we've optimized the sizings to be closer to GTO. We've also added several new blind-vs-blind opening sizes to better accommodate your game! Now you can choose the SB open size 2.5x, 2.25x, 2x, 2x+limp, or GTO (which changes SB open size depending on stack depth).
You can study with symmetric stack sizes or more than 600+ asymmetric stack situations. This means that at least one player at the table has a different stack (e.g., 5-20-20 = BTN has 5bb, SB has 20bb, and BB has 20bb). These situations are now also available even when BTN is a short stack.
Many users had asked for simpler Spin solutions that were easier to implement. We've got you covered! Our new Simple Spin solutions feature high accuracy with fewer bet sizes postflop. These are great for implementation! You can use the simple solutions with both the Regular and Ante spin formats. Finally, we'll upload Test preflop-only Spin & Go solutions that contain many more sizes! These were used to research our new Spin trees and can be used to determine how to respond to almost any preflop actions!
To Recap the Spin & Go changes:
Old General solutions will become legacy solutions (now called Basic).
New 600+ Asymmetric stack situations, even when BTN is a short stack.
New General solutions feature ultra-high accuracy and optimized bet sizes.
New Simple solutions feature ultra-high accuracy and fewer postflop sizes.
New Spin & Go + Ante format available featuring both General and Simple solutions (0.17bb ante per player).
Choose your preferred SB RFI sizing, or let GTO decide (2.5x, 2.25x, 2x, 2x+limp, or GTO).
Test-complex preflop-only solutions added, so you know how to adapt to the competition!
Aggregate reports compile data from all flops to help you find global trends and build heuristics! Watch our latest guide on how to study with them efficiently.
The following aggregate reports are now available:
Cash Game General – NL50 + NL500 – 20bb, 40bb, 50bb, 75bb
Cash Game Simple – NL50 + NL500 – 20bb, 40bb, 50bb, 75bb
This completes our 6max Cash NL500 and NL50 General and Simple solutions! Now you can study aggregate reports for any stack depth between 20-200bb!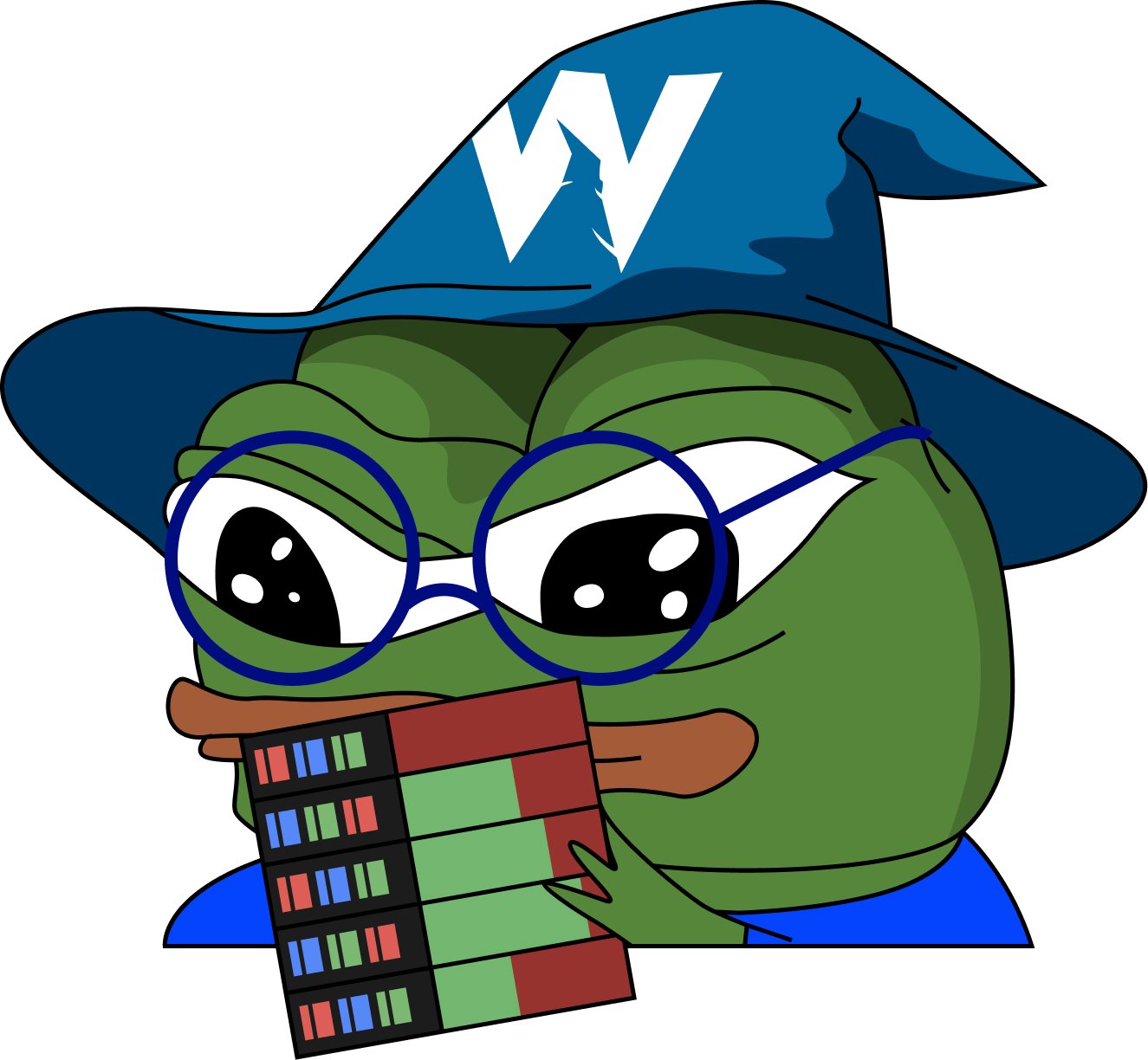 Study plan – Step-by-step plan to achieve GTO Mastery.
EV Comparison – Compare EV or see regret of actions in the Study Mode.
Drill Close Decisions – Filter for close decisions in the Trainer.
Display Pot Odds – Show pot odds in the Study mode + Trainer.
Improved Suit Selector – Filter for any combination of suits in range.
Train Relative Stack Size – Choose between Big, Mid, or Shortstack scenarios.
Squeeze Spots Shortcut – Train squeeze spots without defining exact actions.
Updated Mobile Interface – Improved mobile user interface in Study Mode.
Duplicate Drills – Clone existing drills to change one thing at a time.
Various interface improvements – New hotkeys, metrics, guides and more!
Most of these improvements were suggested by our users in the Discord server using the #Ideas-and-requests channel. If you have an idea to improve GTO Wizard, or just want to join a great poker community, then click the link above!
With today's update, we're introducing the first study plan! At the end of this 30-step plan, you should have all the tools you need to start crushing! Each step of the plan includes assignments and resources to help you:
Master the software.
Tackle the most important spots first.
Deliver relevant resources.
Turn theory into practice with useful drills.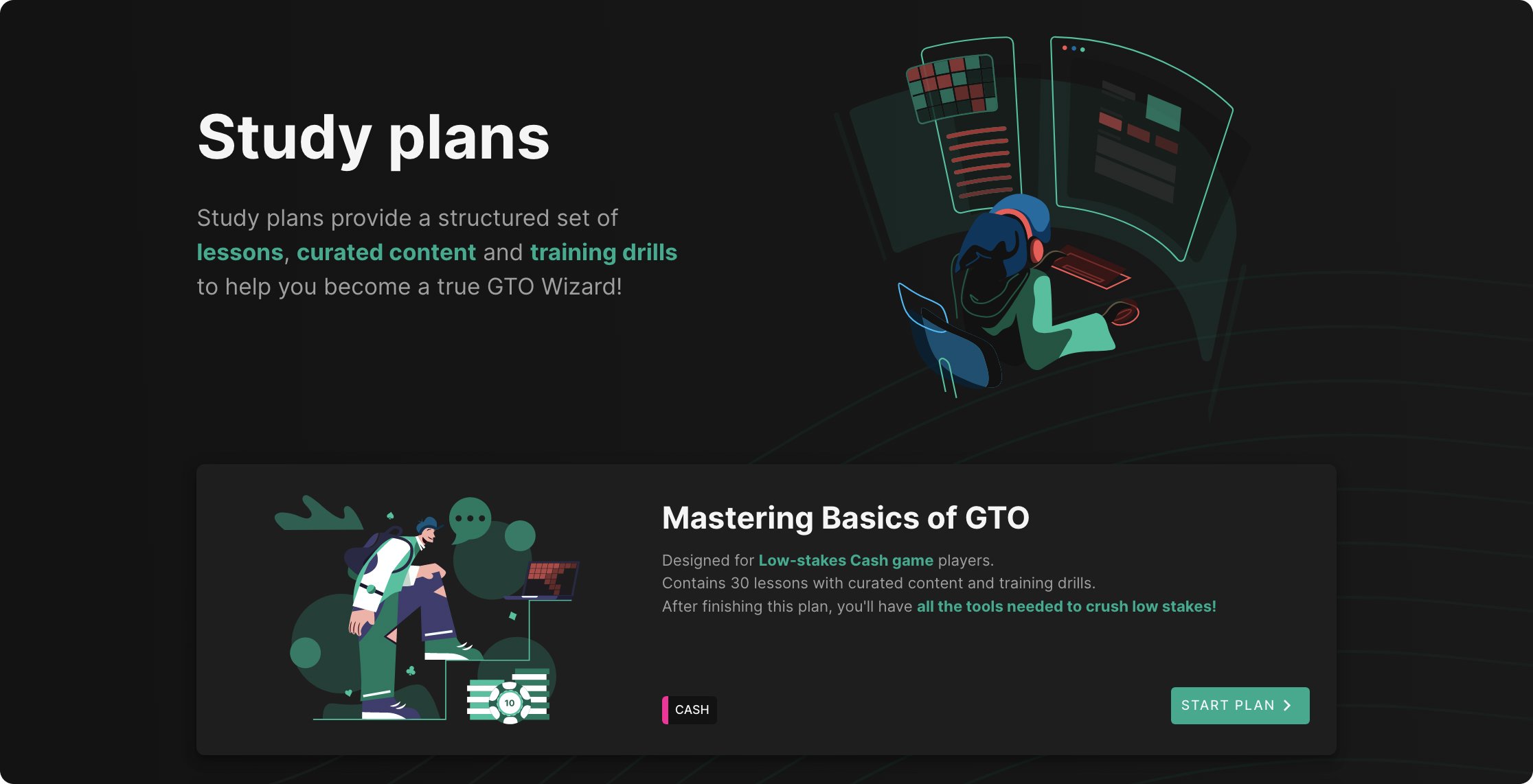 To access the study plan, select Study > Study Plan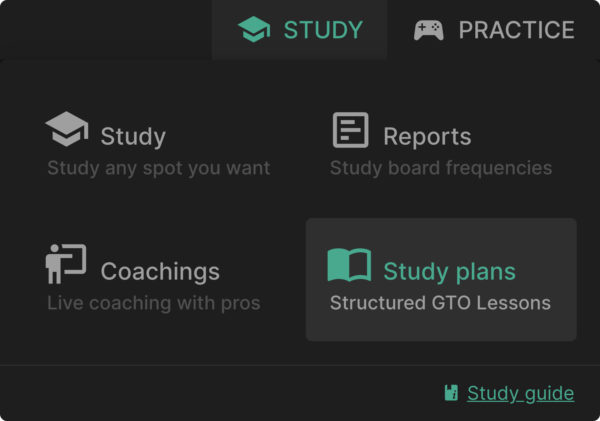 using the dropdown at the top of the page.
Each step of the study plan provides you with tasks and resources. These can range from practicing a specific drill, to reading an article, watching a video, or something else! Mark completed steps by checking off the top-left corner as you complete each step!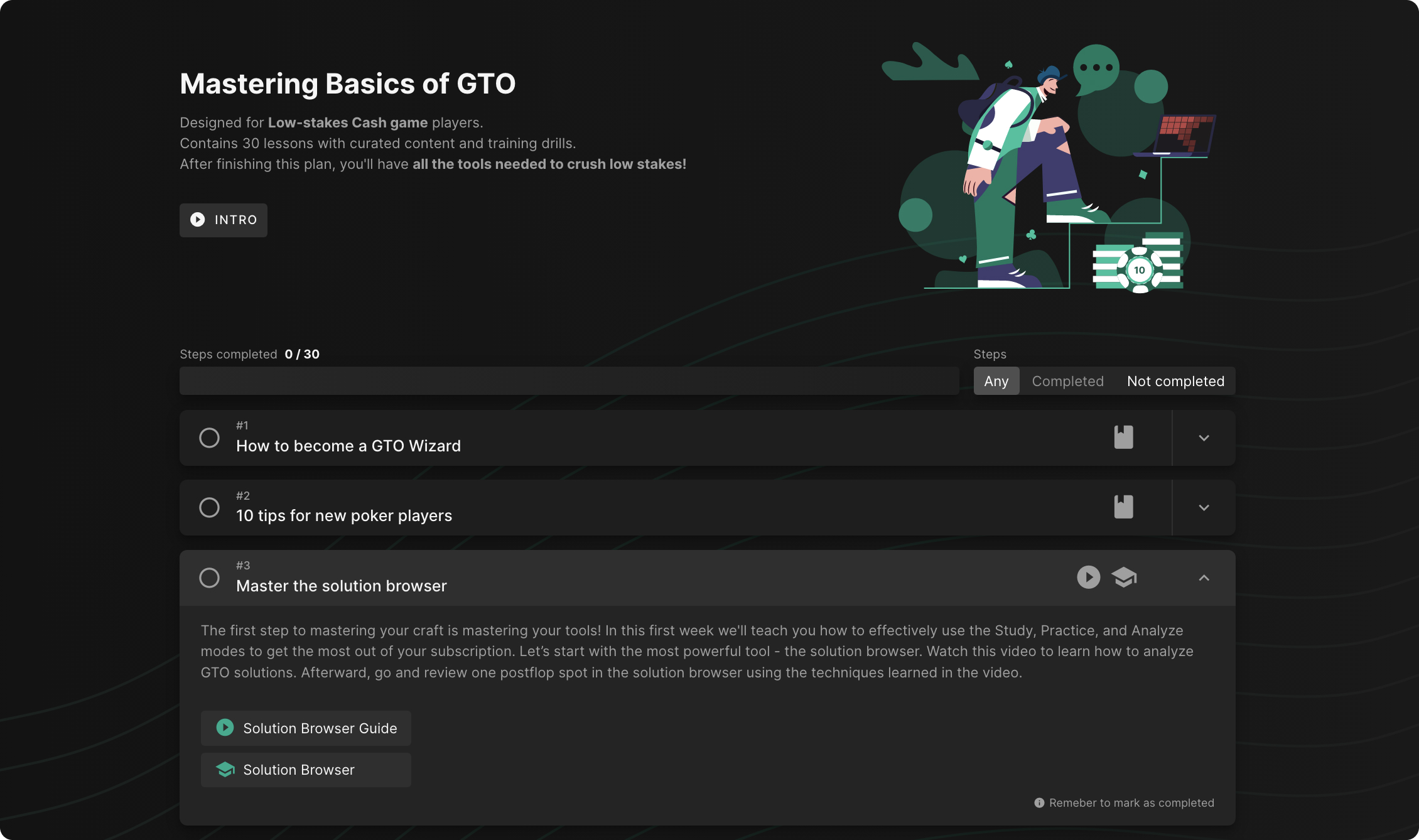 Our first study plan is designed for low-stakes cash game players seeking to master the basics of GTO and develop a powerful strategy.
The EV comparison feature is a powerful tool you can access in the Solution browser to understand how different hands in your range prefer to play! You can access this feature in the strategy dropdown menu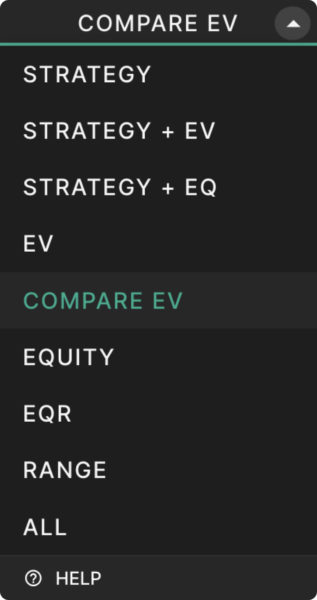 of the Solution browser. This function compares the expected value of two decisions and color-codes your range to display which hands are close, and which strongly prefer one action over the other.
For example, in the above settings, I've chosen to compare "Call" and Fold". Hands that have higher EV as a call are shown in green. Hands that have higher EV as a fold are shown in Red. Hands that are very close to the same EV are shown in white. You can also choose to compare the "Best Action". This effectively shows the regret or EV loss of choosing one action against the opponent's fixed strategy.
For example, on this Q96 board, the BTN has bet 73% pot. We can see at a glance which hands strongly prefer calling (green) over folding (red) and which hands are close (white). Hovering over 97♠ we observe that we should certainly continue when we hold the backdoor diamonds, but without that it's a very marginal decision. Comparing EV is a great way to study value and continuation thresholds!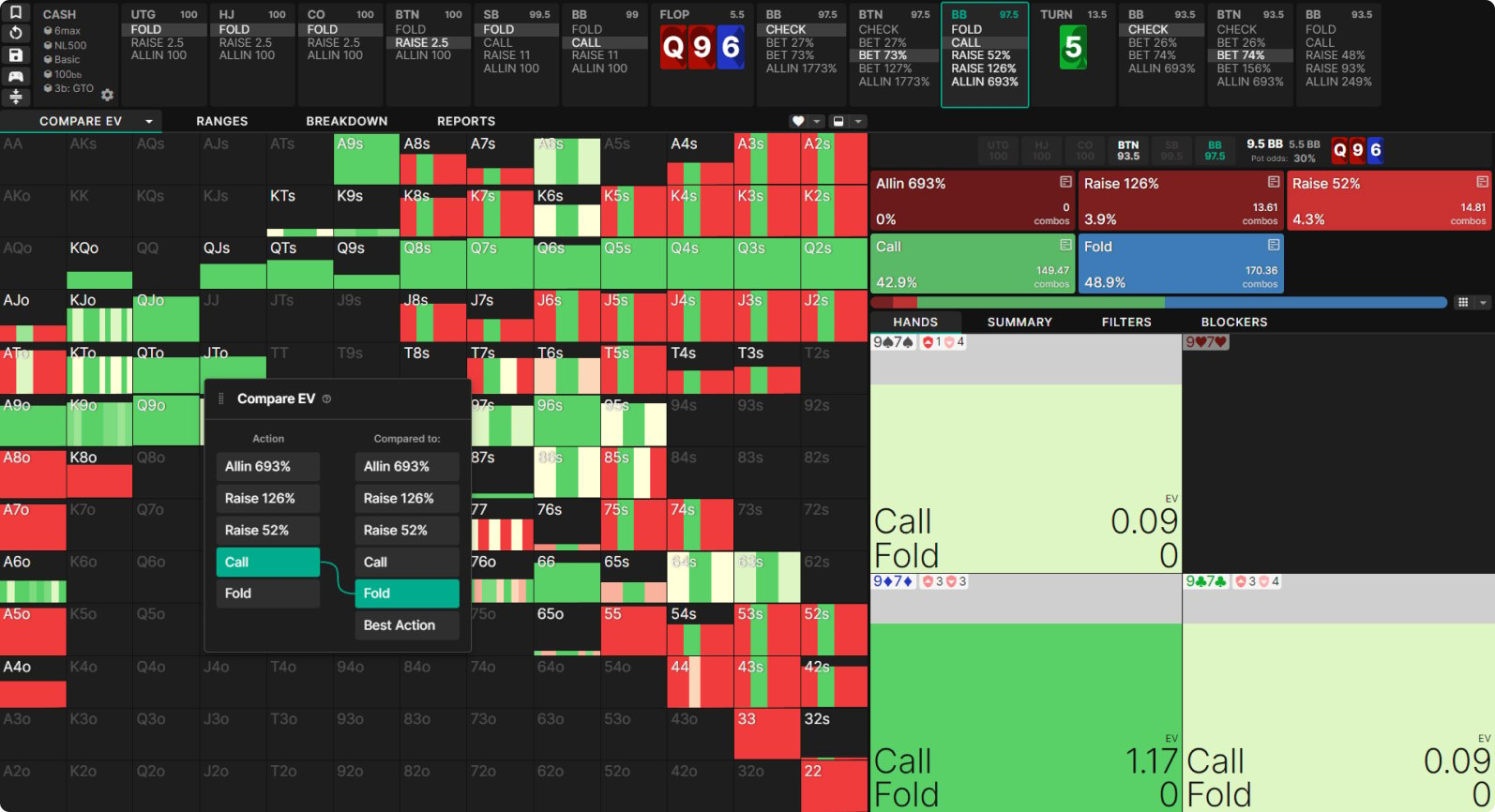 Practice tricky spots! Enabling this setting means you'll only be dealt hands that have a close decision on their first action. A "close decision" is defined as a hand that has a similar EV between checking/betting or folding/continuing. Examples:
Practicing your opening strategy you'd be dealt hands that are close between opening and folding.
Facing a bet you'd be dealt hands that are close between folding and continuing.
Practicing c-bets you'd be dealt hands that are close between checking and betting.
To use this feature, open a new training session and select All Settings > Hands > Close Decisions.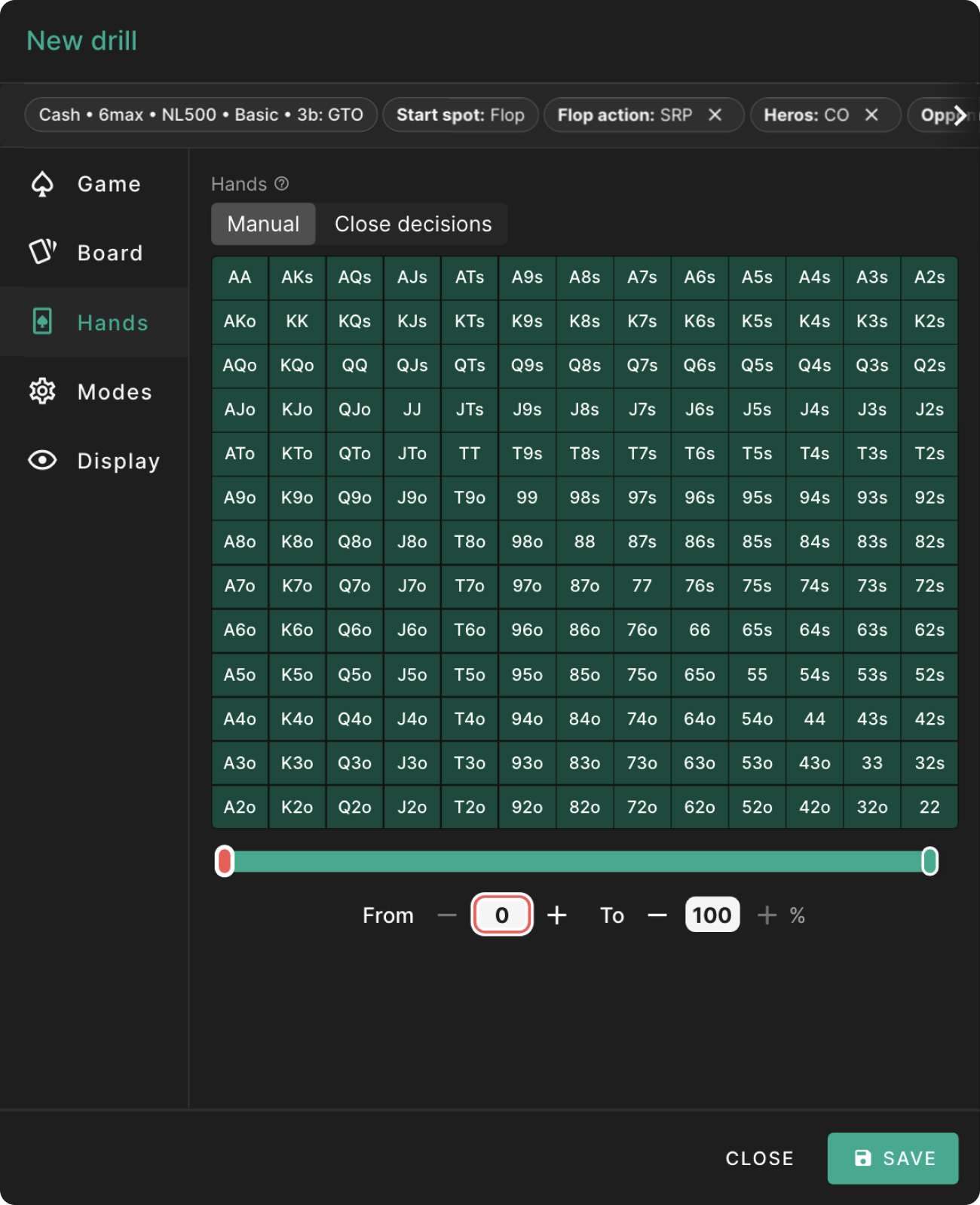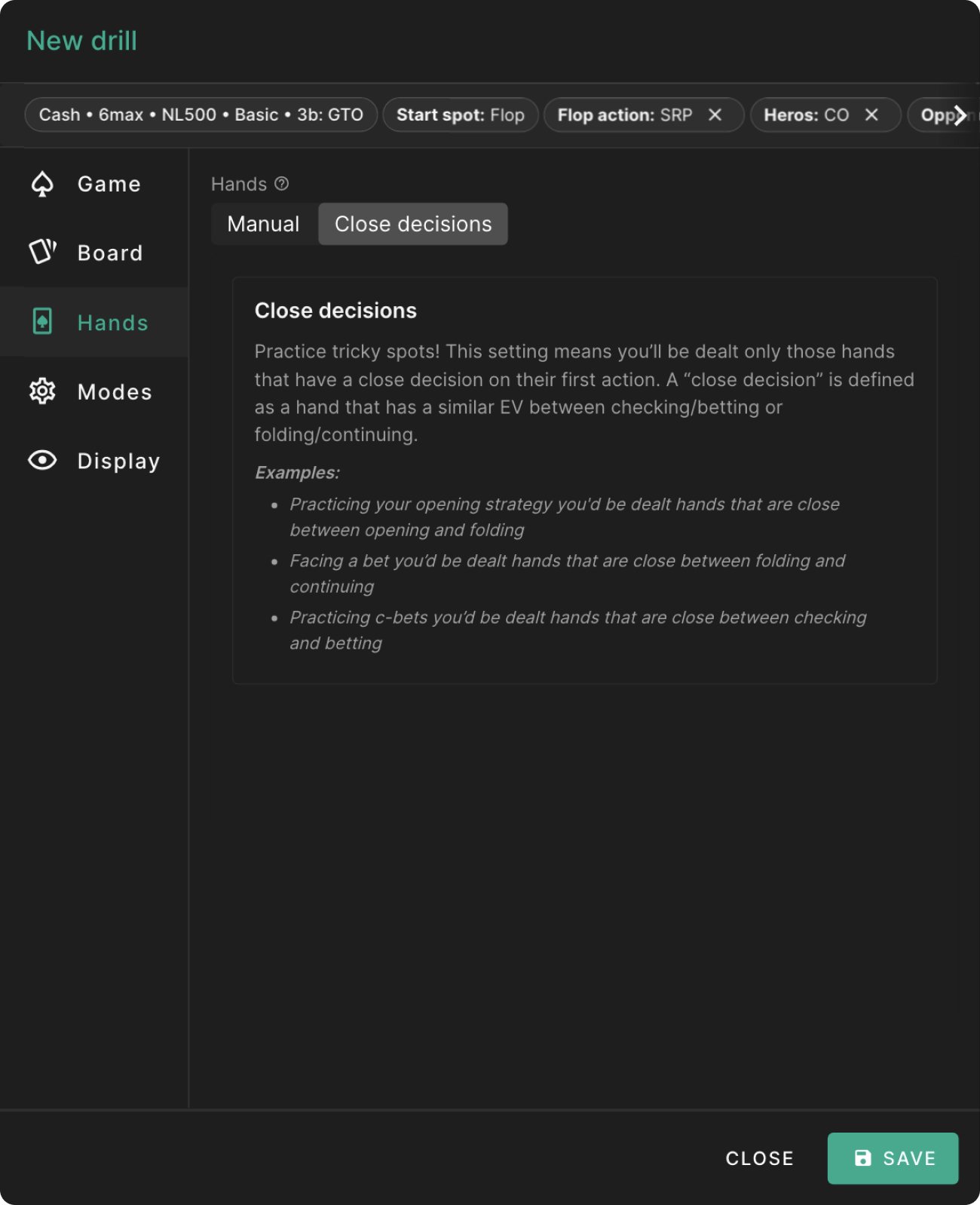 View Pot Odds in Study Mode
We've improved Study mode and Trainer by adding pot odds! Pot odds tell you what portion of the pot you need to win to justify a call (learn more).
This metric is great for deciding what hands are strong enough to call. Pot odds are displayed in the infobox of the Study mode and next to the pot in the Trainer.

We've improved the Suit selector so you can filter your range by suit more accurately!
Previously, there was no way to filter for, e.g., and hand that contained a spade. You could only filter top or bottom cards. So we've updated this feature to allow better filtering! Instead of filtering top or bottom card, now you can filter by suited and unsuited cards. You can select multiple suits and apply multiple filters. You can exclude or include suits as needed.
Drill Relative Stack Size
For the MTT enthusiasts, we've added a new setting to the Trainer that allows you to define the hero's stack as either a big, mid, or shortstack relative to the rest of the field. This allows you to play strategically similar stack depths without choosing the exact spots! The stack depths are defined as follows:
Bigstack > 133% of the average tournament stack.
Midstack is between 133% and 66% of the average tournament stack.
Shortstack < 66% of the average tournament stack.

To practice these stack sizes, open the trainer settings and select an MTT solution with mixed stacks. Under the Game section, you'll find the option to select your relative stack depth.
Our previous Trainer settings didn't allow you to filter for squeeze spots – you had to define the actions manually. So we've added two shortcuts to help you practice these spots!

Vs Raise-Call means someone has opened, and another player has called. These spots give you the opportunity to squeeze (or overcall in some spots).
Vs Squeeze means you're the player facing the squeeze, either as the preflop opener or caller.
We've added the ability to duplicate drills! This function is useful when you want to build several drills with similar settings while only changing a few variables. From the Drills Management Page, select this button to duplicate drills.

For example, once you've got everything set up the way you like it, you can duplicate one spot and then only change one variable at a time such as the positional pairs or stack depth. This is a great way to build your own training regiment!
Great news! Thanks to your valuable feedback on our Discord server, we've substantially improved the Study Mode interface on mobile devices. We're excited to announce that more updates for GTO Wizard are in the pipeline, so stay tuned for more exciting developments.
We've updated countless minor things to improve continue delivering a top-notch poker training experience.
Mistakes highlighted in the Practiced Hands table.
See which coaching videos you've watched and mark your favorites with a star.
Added new hotkey specifically for all-in (Trainer).
When both players go all-in before river, the board cards are played out in the Trainer.
Ranges tab – added EV as pot share.
Guides to help you use GTO Wizard.
And many more smaller improvements from our Discord.
We've fixed all reported bugs to deliver a smooth experience. If you spot any bugs or have questions or suggestions, contact us on our Discord server!
Improving Hand History Analyzer

Attention all Wizards! We have exciting news to share regarding the Hand History Analyzer. A major update is coming soon, including many impressive features such as GTO Reports and advanced analytics.
Your input is important to us, so we would love to hear your thoughts on what additional filters you want incorporated into the Analyzer. Are you interested in filtering your hands by stack depth or position, for instance? We encourage you to join our Discord server and share your ideas with us.