6Max Cash GG, NL50; 100BB (ALL SPOTS)
6Max Cash GG, NL1K; 100BB (ALL SPOTS)
6Max Cash Simple 2.5x, NL50; 100BB (ALL SPOTS)
6Max Cash Simple 2.5x, NL500; 100BB (ALL SPOTS)
6Max Cash General; Improved accuracy to 0.075%-0.3% dEV + added 20% cbet in 3BP
HU Cash Advanced, NL500; 20, 40, 60, 80, 100, 150BB (ALL SPOTS)
HU SNG General, 45 depths; 1BB to 72BB (ALL SPOTS)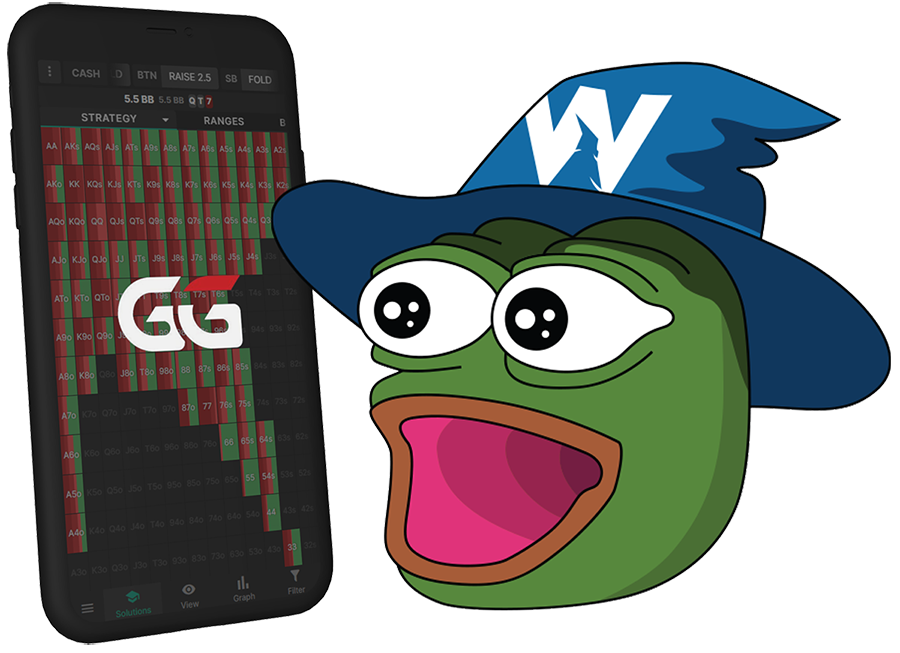 6Max Cash GG NL50 + NL1K – 100BB
GG Poker Network has become one of the most popular poker sites. GG's rake structure charges rake on preflop pots after someone 3bets. This differs from most sites' "no drop, no flop" policy, which significantly changes the optimal strategy.
We've added two sets of solutions to cover these rake structures. The NL50 solutions include 5% rake up to 8BB, and the NL1K solutions include 5% rake to 1BB raked pre. These are General style solutions solved to an accuracy of 0.1%-0.3%.
HU Cash Advanced – 20BB to 150BB
We've added Advanced solutions to our HU Cash collection. These solutions include preflop limps and more preflop sizings in spots where GTO used more sizings with a significant frequency so that you can look for more unique lines. These solutions cover a variety of stack depths from 20 to 150BB deep. Starter Cash subscribers can only access 100BB solutions, whereas Premium members can access all stack depths. These solutions are solved with high accuracy (0.075%-0.3% of the pot).
Cash Simple 2.5x NL50 + NL500
The new Simple 2.5x solutions are similar to the regular Simple solutions (no cold calls except for BTN and no 4bet allins), except UTG-CO opens to 2.5BB. These solutions are available to all Cash game members. Premium members can access different stack depths as well.
HUSNG – 45 depths
We've improved the HUSNG solutions by adding new solutions for deeper stack depths between 30 and 72BB deep. We improved the sizings, especially the ISO and 3Bet sizes which were changed to reflect more real game scenarios. We altered the postflop sizes based on feedback from our users, e.g. added min check-raise at shallow depths.
Improved 6max General Cash solutions
We improved our General Cash game solutions by resolving many spots to higher accuracy (0.075%-0.3% dEV) and enhanced the sizes available in 3bet pots by adding a 20% cbet option.
Trainer Updates
We've significantly improved our GTO trainer! Take advantage of new and unique features for the ultimate GTO Training experience:
Multitable Mode – Play up to four tables at the same time!
Difficulty Mode – Group similar actions together to reduce the difficulty of your training experience.
Game mode – Practice a single spot, specific street, or full hand.
Hand replayer – Review practiced hands with a new built-in replayer!
Game Speed – Choose the speed of the opponent's actions.
Customize – Fully customizable layout!
Improved hands selector – Added slider to remove both top and bottom of the range (Settings/Hands).
Fixed all bugs and other improvements.
Practice up to four tables at the same time! You can choose between 1, 2, 3 or 4 tables to get the most out of your study session. This feature combines with others for the ultimate training experience!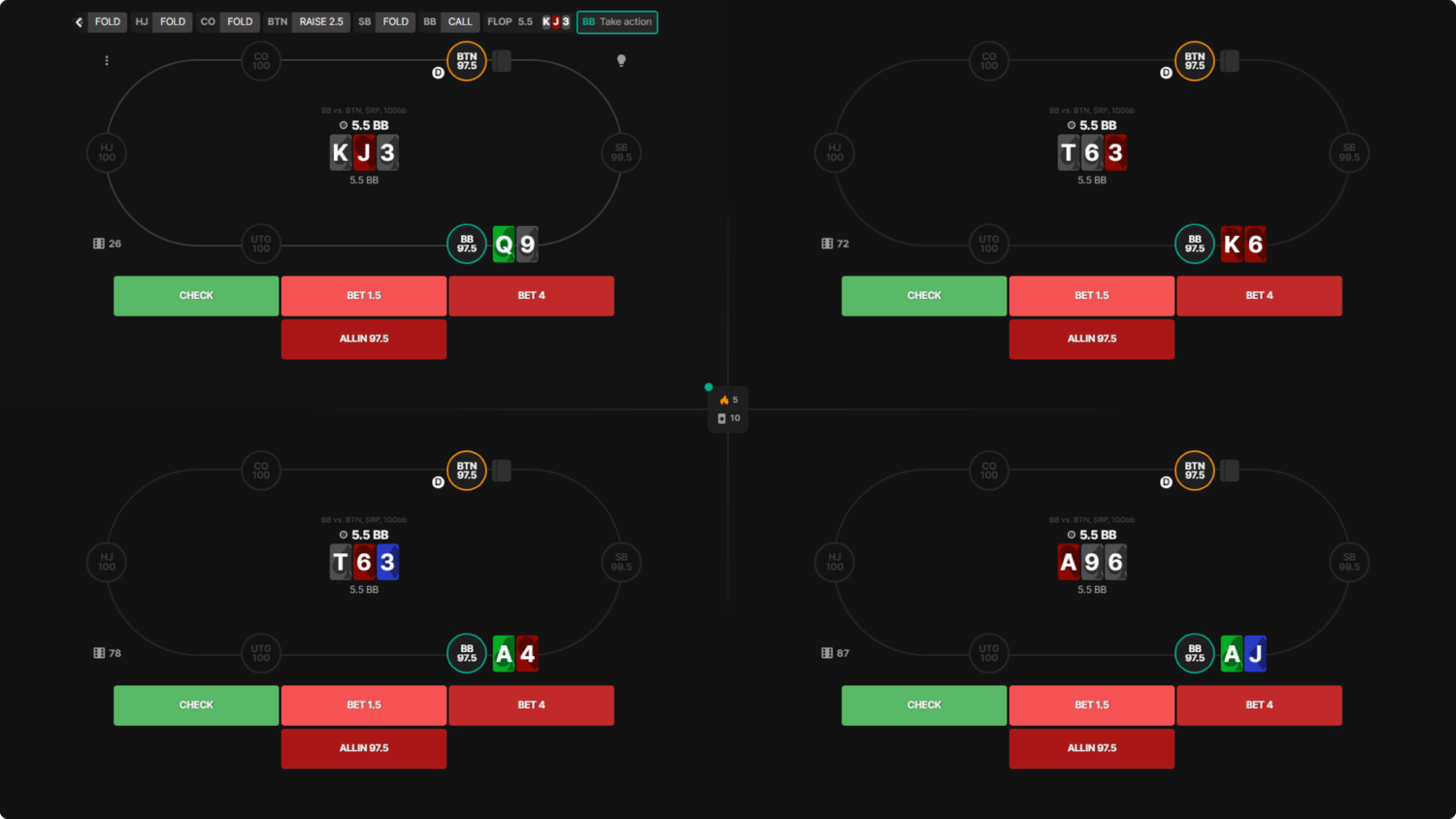 This mode required us to change a few things about the interface to accommodate multiple tables. For example, the information panel which shows ranges and strategies wouldn't know what table to show. So we've added a button in each of the tables which opens the info panel for that table.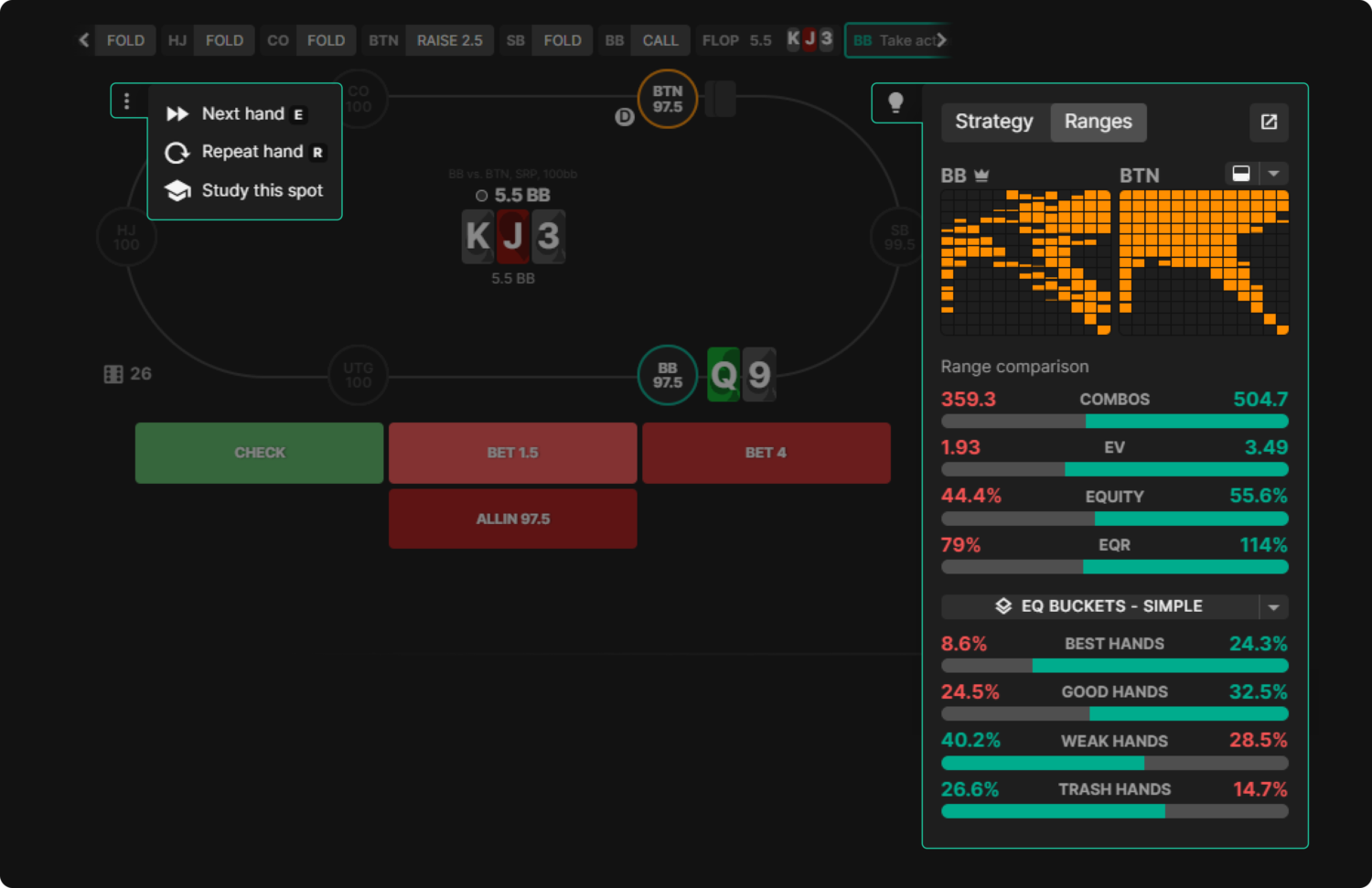 Similarly, the replay hand and next hand controls needed to be moved to individual tables otherwise it wouldn't know what table to apply this command to. Select the three dots in the top-left of an individual table side to replay or skip to next hand.
Group similar actions together to reduce the difficulty of your training experience! Your hand will choose its highest frequency action within the selected group of actions. The difficulty works the same way as our bet size grouping: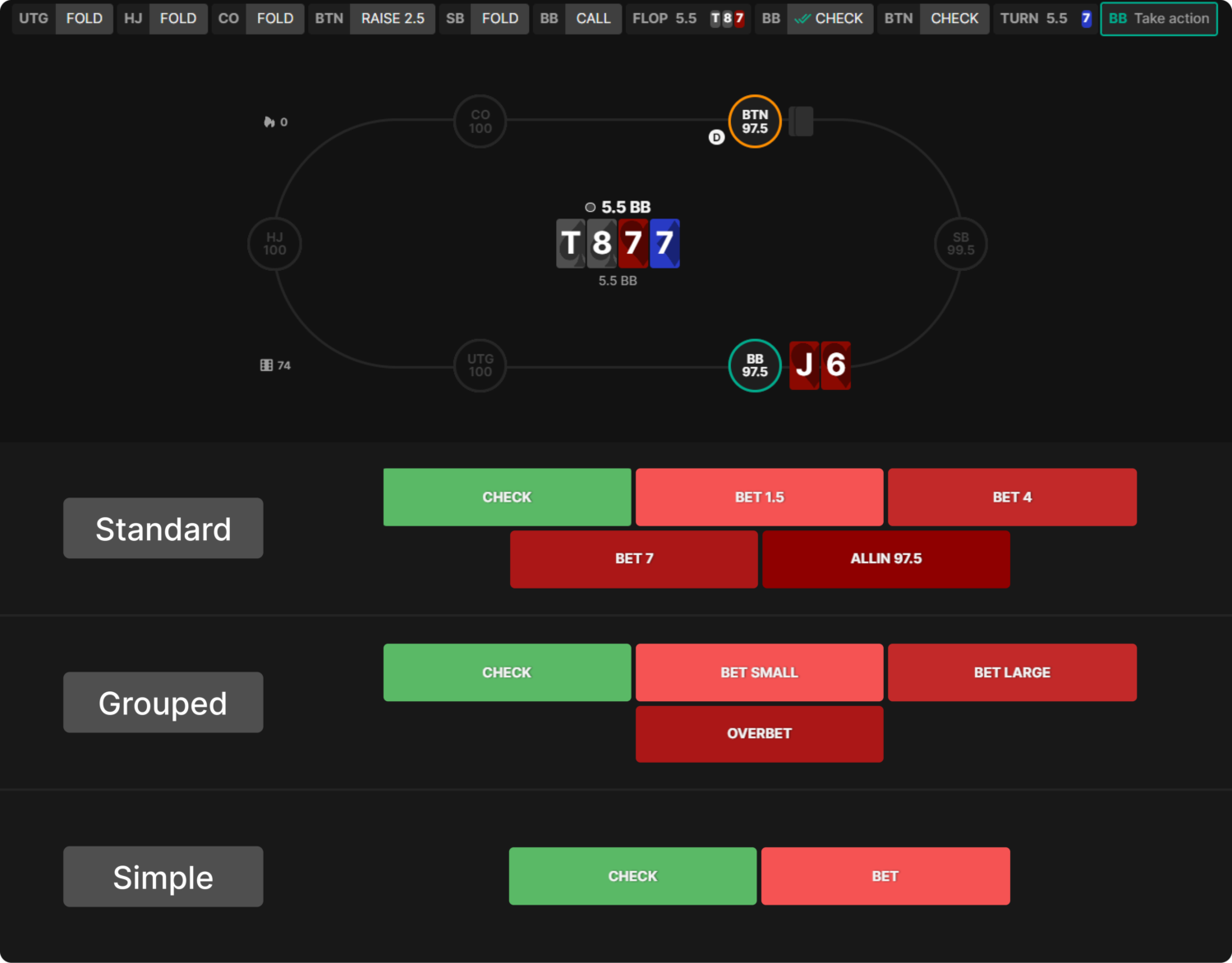 Simple (Easiest) – Choose between a simple bet/check or raise/call/fold
Grouped (Medium) – Similar bet sizes are grouped together
Standard (Hardest) – All bet sizes are available
Practice a single spot, specific street, or full hand. Previously we had Single spot or Full hand mode available. With this update, you can now practice a specific street! For example, if you select preflop the hand will end once you reach flop or someone folds. This is a great way to master poker one street at a time.

The Full hand and Spot mode works the same as before. Full hand mode has you play to showdown or until someone folds. Spot has you practice a specific decision point over and over.
Hand replayer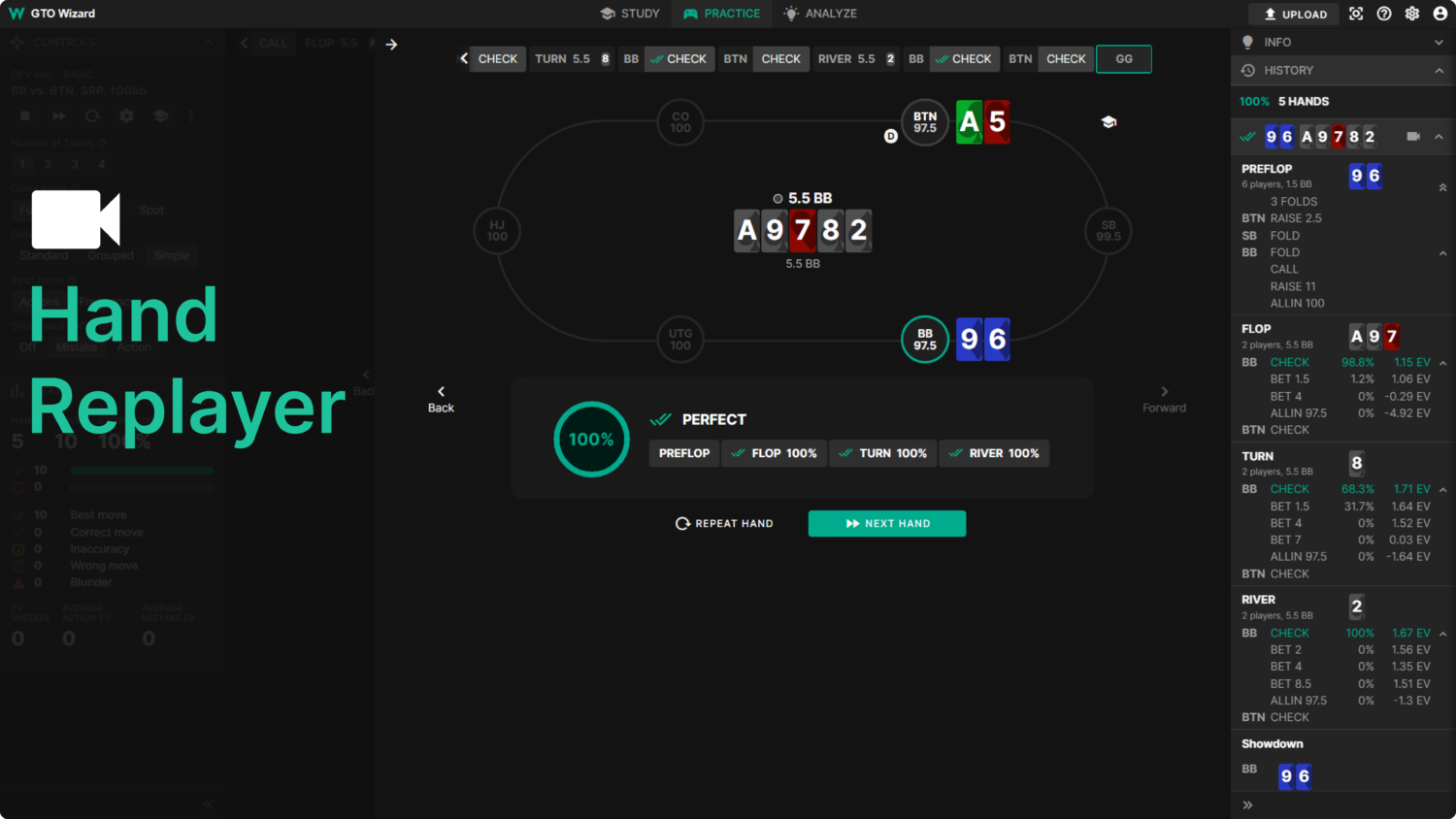 Review practiced hands with a new built-in replayer! Similar to analyze mode, you can scroll through the action to see how the hand played out. Additionally, you can access the replayed from the History Tab.

This feature lets you speed up the game by fast-forwarding the opponent's animations and reducing their decision time. Select between Normal, Fast, or Turbo game speed within the settings.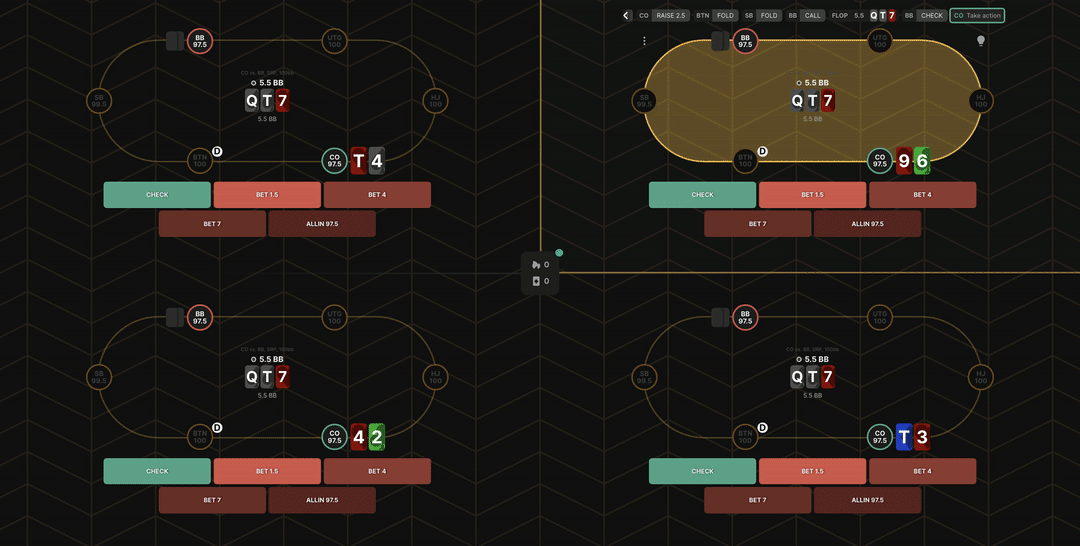 You can fully customize the trainer's colors, background, look, and feel! Access these options within the settings page

under Trainer. Alternatively, you can choose from premade themes. Make it your own for the ultimate training experience! Share your theme on our Discord, or import/export themes with others.
Study Mode Updates
This update includes many improvements to our interface, including new connectedness filters, flop subsets in reports, new hotkeys, and bug fixes.
New connectedness filter
Previously you could only filter flops by two categories (disconnected or connected). With this update, we've added a third category – gutshot possible. This third category can be used in aggregate reports, as well as filters for practice mode textures.
Disconnected – No straights or straight draws are possible
OESD Possible – 8 out straight draws are possible
Connected – Straights are possible

Our original reports include all 1755 strategically distinct flops, however many users found this cumbersome and requested smaller subsets. So we've added subsets with 25, 49, 85, and 184 flops to make analyzing aggregate reports easier. You can use subset filters for practicing board textures in the Trainer as well.
Improved Reports Interface
In addition to new filters and subsets, we've redesigned the aggregate reports interface so that it's easier to use. We moved the Grouping/View/Actions/Filter dropdowns towards the middle of the page, so all the functional buttons are in one place.
Analyzer updates

GTO Wizard can now analyze hand histories for 9max cash games, HU MTT spots, and HUSNG Ignition hands. We added support for two new sites: Pokertime and Pokermaster.
Other improvements
Redesigned Settings page
We've redesigned the settings menu to accommodate all of the new customization options!
New hotkeys
Press 'J' to open the solution browser shortcut menu. This hotkey makes it easier to jump right into the action!
Press 'Shift+1' to cycle through the Strategy dropdown menu in reverse.
Press 'P' to clear filters in study mode.
Improved UI for 2K and 4K screens
As many players use higher resolution screens, we have improved the UI to achieve a better studying experience for Wizards with 2K and 4k monitors.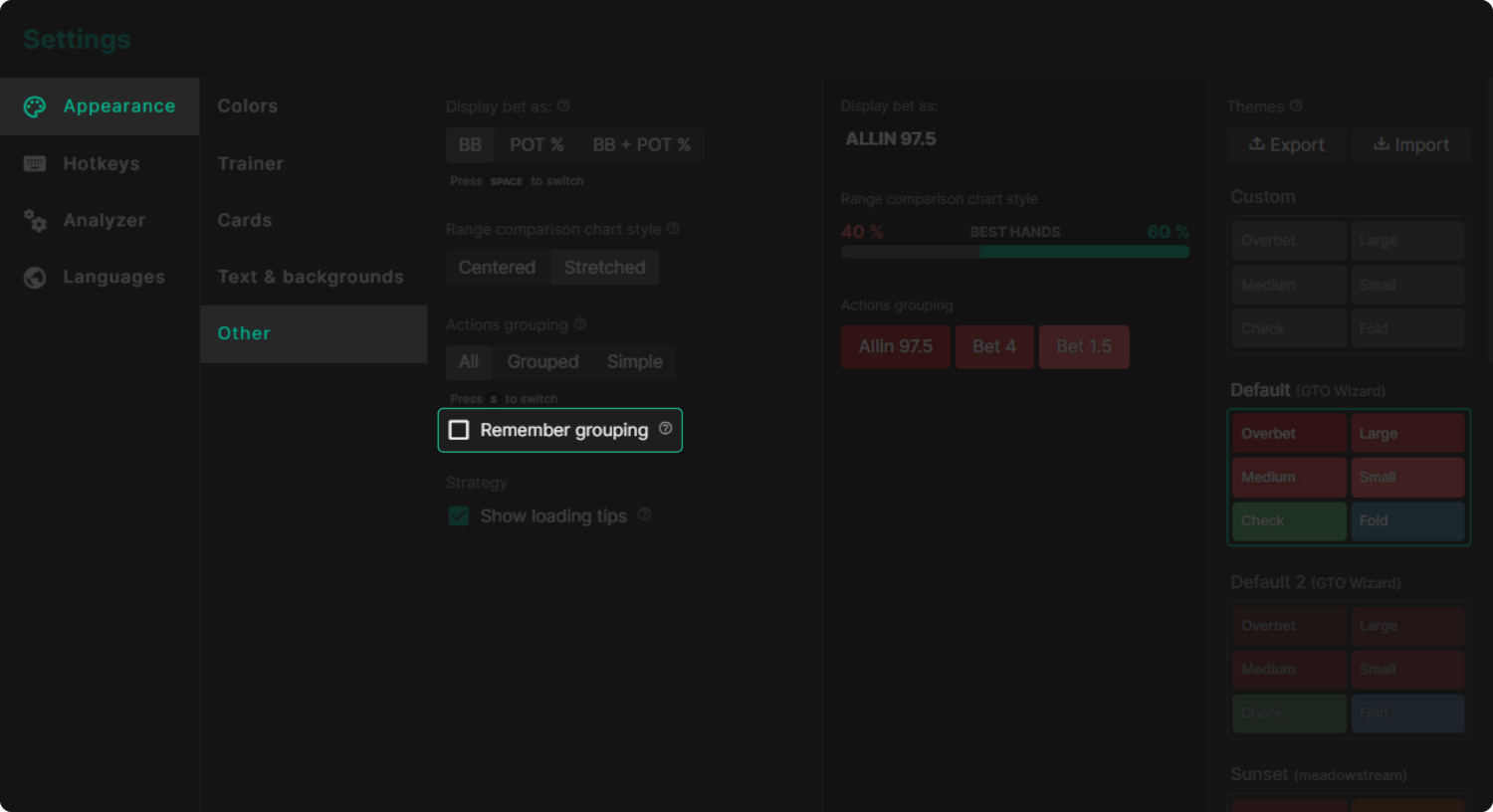 We've found that many users were confused about how action grouping works and inadvertently grouped actions together. Therefore, we've changed GTO Wizard to reset the action groups to "All actions" when you reopen the software. However, you can tell GTO Wizard to remember your grouping in the settings under Other>Actions Grouping.
Bug fixes
We've fixed all report bugs for a smoother, better experience. However, if you notice any bugs, please report them to our #bugs-and-issues channel in our Discord server.

To celebrate these new themes 🥳, we are holding a competition 🏆!
Send us your best themes, and the top 10 submissions will receive 1 month of GTO Wizard Premium for free!
Customize the appearance of the trainer and solutions in your settings
Export your theme
Give it a name, and submit!
Rules: Every user can submit only one theme. You need to submit your theme by the end of August 2022. We will announce and present the TOP 10 themes in the GTO Wizard app with the author's name on the 15th of September.